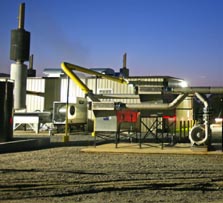 Ingenco, a Henrico-based power company, will soon begin work on a new electricity plant at the county's Springfield Road Landfill near Short Pump.
The facility will use captured landfill gas to fuel generators that will produce about 4 megawatts of power. The company will transmit the electricity to Dominion Virginia Power's network, where it can be bought and sold by power companies.
Ingenco will pay the county public utilities department between $200,000 and $400,000 a year for the gas. The exact price is tied to the market price for natural gas. The county is also leasing the plant site to Ingenco for a renewable 15-year term for a dollar a year. Ingenco will occupy just over 2 acres of the 194 acre dump.
"We are going to take that energy currently being wasted and transform that into renewable electric power to put on the local grid," said Alan Petersen, a VP of development at Ingenco.
Petersen declined to put a price on the project or go into financing details, but said the cost of the project is a few million dollars.
Petersen said the company will start moving dirt around soon and expects to be operational by the end of August.
Ingenco has other similar facilities in Chesterfield, Charles City, Amelia, and Brunswick counties, to name a few. The company also has facilities in other states such as Maryland, Washington, North Carolina and Pennsylvania.
The company is currently developing two facilities in Miami that will total 12 megawatts when completed.
Petersen said he is actively looking for additional projects. He said working with municipalities is a win-win because instead of having to spend money capturing the gas and dispose of it, it can sell the gas for revenue. Ingenco also has facilities at private landfills as well.
Stephen Yob, Henrico director of solid waste removal, said the county is not required by law to capture gas from the landfill, but they have done so because of environmental concerns.
"Capturing gas provides a lot of environmental good, by controlling odors and the release of greenhouse gases," Yob said.
The county has spent about $2 million capturing gas at the landfill, said Yob.
"Revenue coming in will help pay for some of the infrastructure we have put in to capture the gas and help us to want to capture more of the gas and direct it to Ingenco," Yob said.
Al Harris is a BizSense reporter. Please send news tips to [email protected]