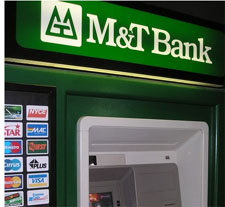 A recent addition to the Richmond banking scene, Buffalo-based M&T Bank, doubled its first quarter profit from the previous year.
The bank said it earned $151 million during the first quarter, up 136 percent from $64 million.
Last year the bank acquired Baltimore-based Provident Bank, which had several branches in the Richmond area.
According to a Buffalo News report, the growth is fueled by higher profit margins following a pair of acquisitions and lower credit costs.
Here's more:
Last year, M&T expanded in the Baltimore and Mid-Atlantic regions, buying Provident Bankshares Corp. and Bradford Bank to add a total of $5.5 billion in assets and extend its reach down to Richmond, Va.

As a result, average earning assets for the quarter were up 5 percent to $60.3 billion from a year ago. The bank also paid out less on deposits and wholesale borrowings, so the profit margin on lending rose by more than half a percentage point, to 3.78 percent.

At the same time, improved confidence by the bank led officials to set aside a lower provision for loan losses of $105 million, down from $158 million a year ago. That exceeded actual losses of $95 million, down from $100 million a year ago, so the bank added just $10 million to its reserves.