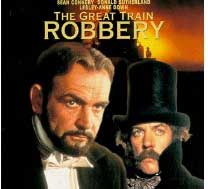 Al and I were in a heated debate this morning about what would be the most thrilling heist:
1.    A train robbery (I imagine this one from the late 1800s)
2.    A casino heist in Vegas
3.    A museum heist
4.    A collectible car heist
5.    A jewel heist
The museum heist would be perhaps the most refined crime, but then you have the trouble of finding a buyer – that is unless you had a buyer lined up before hand.
A train robbery sounds incredible and might be the biggest adrenaline rush, but I'm not sure trains carry cash anymore, and if you robbed an Amtrak, you'd have some scheduling problems since it's never on time.
Before making a pick, please assume all heists involve costumes, double agents, bribes and driving a fast car recklessly.