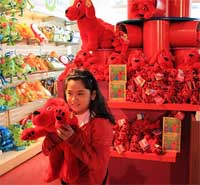 Guess how every single kid under 5 would choose to use a thousand bucks.
Yup, they would spend it. On candy and toys, most likely, although a recently survey by the Junior Achievement of Central Virginia – an organization dedicated to educating young people about the workforce, entrepreneurship and financial literacy – didn't go into quite that much detail.
Among 300 responses, 100 percent of those 5 and under said they would spend the money. Twenty-five percent of respondents 55 to 74 said the same.
JA President Anne Marie McHugh said that one of her favorite survey responses described using the money to create a finance lesson for her school-age students, including prizes for those who planned the best.
McHugh said that the answers have been diverse. People would use the $1,000 for everything from new clothes to financial aid bills to wedding expenses.
She also said she was surprised by the answers of some of the young responders. She said that many of them wrote that they would donate the $1,000 to charities such as SPCA or UNICEF.
"In this day and age, that is truly amazing to me," she said.
According to Dorothea Henry, a marketing analyst for Union First Market Bank and an involved member of the JA survey, the likelihood of young children wanting to save the money is greater (46 percent) than that of the adults (23 percent).
"Numerous kids have said they want to save for animals and to help their families," she said. "One girl, age 6 to 10, said she wanted to save for a micro pig!"
Henry also said that among the young responders, most who chose to donate their winnings were female (87 percent) and were very specific, noting charities like UNICEF and causes such as leukemia. The young boys who chose to donate were much more general, saying things like "poor people."
However, the most popular option, regardless of age or gender, was spending the money. Forty percent of the responders said they would use their money on things they need or on things they just want.
Henry said that there were lots of answers involving clothes, video games and animals.
According to McHugh, the main goal of the survey is to get people talking about financial literacy. She and other volunteers at JA work to teach young people in the Richmond area about "grown-up" life and finances through 23 different programs.
One of these programs puts experienced business people in a classroom for five weeks to teach "everything from what is a penny, nickel and quarter to what is ethics," McHugh said.
"We provide a curriculum, and [the volunteers] go in and bring their life experience to the curriculum," she said.
The $1,000 winner will be chosen at random April 30. The person will then have to spend the money exactly how they said they would.
"Whatever you say you are going to do with the money, you have to do that," McHugh said. "We want to watch and follow to make sure."
"A thousand dollars means so many different things to so many different people," she said. "It depends on your age and your financial situation."

Kaitlin Mayhew is a BizSense reporter. Please send news tips to [email protected].