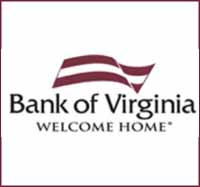 A local bank company has a new investor.
Midlothian-based Bank of Virginia has found a partner that will strengthen its balance sheet and help meet conditions set forth by regulators in January.

Cordia Bancorp, a Virginia incorporated investment group, announced it had reached an agreement to buy up to 5 million shares of Bank of Virginia common stock for $3 a share.
Shares of the bank's stock traded up 40 percent Wednesday to close at $4.25.
Under the agreement, Bank of Virginia's board of directors would be expanded to include six new members from Cordia.
Jack Zoeller, president and chief executive of Cordia, would serve as chairman and chief executive of Bank of Virginia under the agreement.
"We have spent a lot of time putting together a deal that works well for both sides," said Zoeller from his office in Washington. "Our investors are really excited that we have found what we think is the best opportunity in our market area."
Cordia was formed in April 2009 with the purpose of finding a bank in the Mid-Atlantic region that could benefit from additional investment. The company's six founders all have banking backgrounds.
Zoeller said the group also looked closely at other banks along the East Coast. Under the agreement, Cordia will invest a maximum of $15 million, which would grant them 52 percent of the bank's common shares. The minimum investment Cordia has agreed to 2 million shares, or $6 million.
Zoeller said his group has been talking to Bank of Virginia for five to six months.
In January, state and federal regulators required Bank of Virginia to agree to a written plan to improve its financial condition after its capital dipped below the required level in August. By the end of December, it had returned to well-capitalized condition after selling 1.5 million shares for $4.6 million. You can read more about that here.
"The bank's current board and CEO have been working very closely with regulators to satisfy that agreement," said Zoeller. "Substantial progress has already been made on that, but obviously bringing in additional capital will strengthen its balance sheet."
The bank ended 2009 with capital of $16.76 million. The bank posted a net loss of $4.2 million for 2009. The loss is a result of increasing the amount of funds in the bank's loan loss fund, an FDIC special assessment and expenses related to improving its financial and risk management programs.

Frank Bell, current president and chief executive of Bank of Virginia, will continue to serve as president of the bank under the deal with Cordia. He said that the deal would bring fresh eyes to the business.
"These are experienced bankers that have a lot of exciting ideas," said Bell. "This partnership will be a key step in helping Bank of Virginia become a stronger organization and move into the right direction."
The deal is subject to shareholder approval, which Bell does not anticipate will be a problem. The shareholders are scheduled to meet in June. The deal also requires approval from regulators, which is expected in the third quarter.
Al Harris is a BizSense reporter. Please send news tips to [email protected].