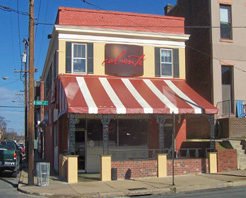 The signature dish from Caliente in the Museum District made national TV last night during a segment on ABC's "Nightline." Caliente's wings are so hot, you have to be stupid to eat them, which is why they're called "Stupid Wings." The restaurant even makes you sign a waiver to eat them.
The "Nightline" piece was about Adam Richman, host of another TV show, the Travel Network's "Man v. Food." Richman filmed an episode in Richmond a few weeks ago while "Nightline" was following him.
That was good timing for Caliente owner Dave Bender, whose restaurant is featured heavily in the segment.
The best moment is in the first few seconds when the spicy wings prove to be so hot the reporter curses on national television.
From the segment:
In each show, Richman tries to beat whatever the most legendary local food challenge or dining dare might be. One hundred and eighty oysters in New Orleans. A 72-ounce steak in Texas. An 11-pound pizza in Atlanta.

And in Richmond, when we were with him … those Stupid Wings. So hot that owner David Bender wears three sets of gloves while making them. The ingredients might as well include molten lava.

"There's this sort of legendary status to most of these challenges, that it's linked with this sort of culinary tapestry of that city," he said. "So it's like, look, you got to do it all, you can't just profile these great restaurants. There's a whole experience you can take part in. And whether I win or lose, I mean it doesn't make a difference, as long as I just point the camera in that direction and let the nation know that there is a lot of some great experiences to be had out there."