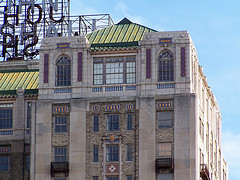 A local architecture firm is trying to recover more than $2.5 million from an Atlanta firm that it claims copied its designs to renovate an iconic downtown hotel.
Almost a year ago, Commonwealth Architects filed lawsuits against the owners and developers of the Hotel John Marshall and Atlanta architecture firm Rule Joy Trammell + Rubio.
Commonwealth was not paid for more than $1 million in design work dating to 2004, according to a lawsuit filed in U.S. District Court. Commonwealth was hired by hotel owner John Camper to draw up plans for a condo conversion of the property.
Commonwealth did some more work when the current developers, Dominion Realty Partners, got involved more recently. And payment was nonexistent on that work too, the lawsuit claims. So Commonwealth sought an injunction against the current developers. That was eventually settled, but it could have delayed the developers from landing the $66 million HUD-guaranteed financing that is allowing them to turn the old hotel into 238 apartments and 20,000 square feet of retail. Construction has begun on the conversion.
Commonwealth is pursuing its case against RJTR for $2.65 million for allegedly copying its designs and wants a jury trial. A judge will rule in June whether the case is appropriate for a jury trial, and, if it is, will set a date.
When Dominion Realty Partners stopped using Commonwealth and hired RJTR (which also designed Vistas on the James), the developers gave them a copy of the previous designs, the lawsuit alleges.
RJTR's final design is too similar in too many spots, thus violating Commonwealth's copyrights, the plaintiff alleges.
RJTR says it did not copy anything. It claims that with a historic renovation, there are only so many tricks to use, and many of Commonwealth's complaints were for design features that needed to be there. In order to receive historic tax credits, the building needs to be restored to the original architect's design, RJTR said.
Chris Gatewood, a lawyer at Hirschler Fleisher who is not involved with the case but handles similar intellectual properties cases, said there are several issues. One involves the developer passing along plans for which it had not paid and to which it did not have the license. The other is the "protectability" of architecture plans for a historic renovation.
Commonwealth said in court filings that there are too many similarities for it to just be "coincidence." For example, the layout of the corridors, storage areas, telephone areas, pump rooms and unit sizes, layout and locations are all similar, as are the intricate lettering changes to the Hotel John Marshall rooftop sign.
The complaint says, "A new design element common to both plans is the use of storefront walls in a setback or saw tooth configuration in the main lobby that contains five panels per by and a door in the center bay."
Sadiq Gill, a lawyer with Vandenveter Black who is representing Commonwealth, said that, "Commonwealth had a long history of doing these projects. It took them eight or nine months to do what Rule Joy did in a month."
"There are certain aspects that have to remain same – the exterior skin, the historical elements on the inside, but on the inside, you can do anything you wanted within that space. … And mathematically it doesn't stand to reason that's the only way to do it."
The defense claims that Commonwealth is really just trying to get $1.6 million owed by John Camper, a Williamsburg resident who has an ownership stake in the building and who tried to develop it before bringing in Dominion Realty Partners.
Brian Casey, a lawyer with Taylor & Walker representing RJTR, said that there was no infringement and that plans for an adaptive reuse aren't protected by copyright laws.
"They prepared the plans on their own. It's as simple as that. There is no infringement on any copyright since they did all their work originally," Casey said.
The second defense is more of a legal defense, Casey said.
"Copyright doesn't protect everything, it only protects original ideas, original design of a building. … It doesn't protect [designs] of code and function."
Aaron Kremer is the BizSense editor. Please send news tips to Editor (at) richmondbizsense.com.