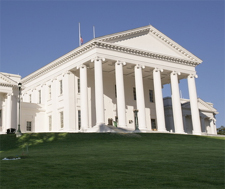 One state university produces more state legislators than any other school. But the alumni connections don't necessarily translate into more state money or other favorable legislation, officials say.
Twenty-five state legislators – about one of every six – attended UVA. They include House Speaker Bill Howell, 17 other delegates and seven senators, both Republicans and Democrats.
UVA has a bigger delegation at the Capitol than any other college or university, according to a Capital News Service analysis of legislators' alma maters. The Cavaliers easily outdistanced the two runners-up – Virginia Tech (with 17 legislators) and the University of Richmond (16).
The 100 delegates and 40 senators listed more than 100 different schools in their legislative biographies. Eighty-seven lawmakers attended more than one college – earning, for example, a bachelor's degree and a law degree.
You can check to see how your school stacks up, as well as look at university gifts to legislators here.
Lawmakers' alma maters include large public schools such as Virginia Commonwealth University (with 12 alumni in the General Assembly, the fourth highest); small private schools such as Sweet Briar College (Sen. Patricia Ticer of Alexandria); the U.S. Air Force, Military and Naval academies; and nine different community colleges (with a total of 13 legislators).
Their old-school ties may give legislators something to brag about – or commiserate over – after a football game or other sporting event. But the alumni connections don't necessarily translate into more state money or other favorable legislation, officials say.
For example UVA has received only a 3 percent increase in funding from 2007 to 2009.
On the other hand, Richard Bland College, a junior college near Petersburg, has seen a 135 percent increase – and no legislators have attended that school.
Mark Smith, the associate vice president for government relations and health policy for VCU, said that in today's age of transparency, lawmakers can't risk showing favoritism to a school they attended.
"Legislators would probably pay more attention to bills concerning their university, but in these modern days with everything being so transparent, I don't sense a lot of that happening," Smith said.
Delegate Clifford "Clay" Athey, Jr., R-Front Royal, believes that favoring an alma mater is "human nature."
"It's a legislator's responsibility to represent their area, not the university they attended," Athey said. "But as you attend a university and form relationships with the professors and other students, you get some sort of sentimental attachment to the university, human nature being what it is."
Even so, that sentiment wouldn't override the merits of a legislative proposal, Athey said.
"As a general rule, I would say most every proposal kind of rises and falls based on its own merit," he said.
Athey earned an associate's degree from Lord Fairfax Community College in 1988, a bachelor's degree in history from VCU in 1990 and a law degree from the University of Dayton in 1993. He was elected to the House in 2002.
A decade ago, VCU had few alumni in the General Assembly. As the number increased, VCU's state funding grew – increasing 47 percent increase from 2007 to 2009. But that was because of the school's leadership under VCU President Eugene Trani and its close proximity to the Capitol, Athey says.
"VCU has had some pretty outstanding leadership in Gene Trani. He has raised a lot of independent funds. VCU has been so successful as opposed to most of the other universities in the state," Athey said.
That approach included offering to pay for half of a project if the General Assembly
Funding depends on a school's quality and leadership, not legislators' alumni connections, said Delegate R. Steven Landes, R-Verona, a VCU alumnus who feels that lawmakers may favor their alma mater but support other schools as well.
"Any university's funding is due more to the leadership of the administration and relationship with legislators on the House Appropriations Committee and Senate Finance Committee than anything else," he said.
To build relationships with legislators, some schools give lawmakers tickets to football or basketball games. From 2007 through 2009, Virginia Tech handed out $9,191 in tickets, according to the Virginia Public Access Project, an online database of legislative gifts and contributions. (Only gifts of more than $50 must be reported.)
UVA gave out more than $8,000 in tickets; and Old Dominion University, more than $5,700.
Athey does not believe that these gifts influence how lawmakers vote on bills affecting universities.
When a university gives a lawmaker football tickets, it's "just saying, 'Come on down to your alma mater.' I don't think that would have a great influence on a specific legislator. Their job is to sort through what is best for all of Virginia," Athey said. "The fact that someone invites you to a basketball game doesn't determine if those legislators will support them."
Landes believes free tickets also serve as a thank-you to lawmakers.
"I think that universities give gifts just like many groups do – to thank legislators for working with them, and from a marketing standpoint, to keep them in mind when making decisions," Landes said.
This story was submitted by VCU's Capital News Service.