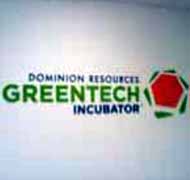 A new incubator in Hanover County is helping to grow businesses in the clean energy sector and already has its first crop of startups moving in.
Built on the model of the Virginia Biotechnology Research Park and managed by the same folks, the Dominion Resources GreenTech Incubator in Ashland provides office space to startups and provides them with guidance and advice from business counselors.
The incubator, which launched in December, has three businesses under its roof, with a fourth in the process of moving in.
David Lohr, who leads the group that manages the Biotech Park, serves as executive director of the new incubator.
"I think we would say we are ahead of where we planned to be in the first four months," Lohr said.
GreenTech wants to host 12 to 15 firms in the 8,250-square-foot space the incubator leases at 319 Business Lane. Lohr said he has the option to expand into an adjacent space of the same size if there is demand.
The first company to call the incubator home was Marz Industries, which is developing a hydrogen fuel cell for big rig trucks that runs the A/C and electrical system — which cuts down on fuel consumption when the vehicles are stopped.
Owner Eddie Miller said he signed up with the incubator because he needed an office where he could meet clients and make deals. He said the business assistance programs were also appealing.
The incubator provides legal, financial, strategic and grant program assistance.
Miller is a mechanical engineer who started his venture in 2008 after being laid off from a company that makes equipment for railroads. He has a patent pending and a working prototype of the device that would act like a mini power generator/battery system for 18-wheelers. He is working on creating a model that can be mass-produced and sold to trucking companies.
"By 2013, we are looking to create 60 jobs in the Richmond area with this. Depending on the funding ramp-up, it may be before that," Miller said. Marz has been looking for investors around Richmond. So far he has a handful of part-timers.
Another company to move into the incubator is Eastlight Renewable Ventures, which develops and operates solar energy projects and sells power to the property owners for prices equal to or less than existing electricity rates.
The most recent addition is a firm called EnviroDock, which produces a product that addresses the same problem tackled by Marz but in a different way. The company produces docking stations for truck stops that provide power to resting driver's vehicles without having them idle and burning fuel.
"It is a different spin on how you would do it. Our first group of companies has two that are in the same [industry] space — that is just how it works out," said Lohr.
The tenants so far are exactly the type of company the incubator seeks to attract, Lohr said.
Lohr said the space is for companies that are developing a product or service in the energy sector: technologies that generate cleaner energy, reduce consumption or mitigate negative impacts of energy production.
"These are all early-stage companies. Typically they are companies that are still very small, either just founded or within a year of being founded, typically just founders with one or two employees," said Lohr.
The incubator is funded in part by Dominion Resources, which has pledged $50,000 a year for the next five years. The town of Ashland and Hanover County are chipping in $500,000 over five years.
Tenants of the incubator sublease the space they use, which can be as small as a cubicle, and pay a monthly membership fee for the business services provided by the incubator. The incubator also receives 1 percent ownership of the company for every year they are there with a cap of 3 percent.
"We are looking for companies with high growth potential … that have intellectual property that is protectable and can produce economic development in Hanover and the Central Virginia Region," Lohr said.
Al Harris covers green energy for BizSense. Please send news tips to [email protected]