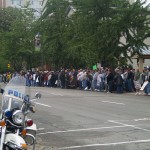 Despite hundreds of protesters chanting outside, shareholders of Massey Energy voted to reelect three directors who served on the mining company's safety committee.
A group of shareholders opposed the reelections of Baxter Phillips, Richard Gabrys and Dan Moore on grounds that they failed in their duties to uphold the company's safety record, which has resulted in erosion of shareholder value. Shares have dropped 37 percent since the mining disaster at Upper Big Branch Mine killed 29.
In a statement, Admiral Bobby Inman, who serves as lead independent director, said of the directors: "Their knowledge of Massey Energy and their expertise as business leaders will serve this company well in this critical period in Massey Energy's history."
During the meeting, CEO Don Blankenship defended the company's safety record.
"We reject all accusations that this company is indifferent to safety. I receive a report on every lost-time accident at Massey. We want to know how the injury occurred," Blankenship said during a speech to investors, which was streamed over the web.
The webcast can be accessed here.
William Patterson, director of CtW Investment Group, which opposed the reelection of the board members, said in a statement that preliminary tallies indicate that the vote was close.
"This razor thin vote casts a cloud over the legitimacy of the current Massey board and is a clear demand for new directors who will make needed changes in company leadership. The opposition votes against the Massey directors were the highest of any this year at an S&P 500 company," Patterson said.
The protesters outside were a mix of union miners who opposed the company's safety and labor practices and environmentalist who oppose the company's use of mountain top removal and other methods.
A large police presence did not stop two protesters from entering the hotel and unfurling a banner from the rotunda that read "Massey Stop Putting Profits Over People." The two protesters were arrested.