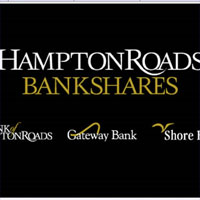 With its capital base still eroding from massive levels of loan losses, the Norfolk-based parent company of Gateway Bank said today it has entered into agreements with institutional investors who will infuse it with sorely needed capital.
Affiliates of The Carlyle Group and Anchorage Advisors LLC have each agreed to pay $72.5 million for 168.8 million shares of Hampton Roads Bankshares, the holding company of Bank of Hampton Roads, under which Gateway Bank operates six former Bank of Richmond branches locally.
This is the first round of capital HRB has been able to raise since it took $80 million from the U.S. Treasury Department in December as part of the Troubled Asset Relief program's Capital Purchase Program, designed to infuse healthy banks to help them sustain the economic downturn.
HRB however, has since been on a downward spiral in terms of earnings, asset quality and in meeting its federally mandated capital adequacy levels.
It said today in a Securities and Exchange Commission filing yesterday that the combined $145 million from Carlyle and Anchorage will be part of an expected $255 million total capital raise that it will use to strengthen its balance sheet and accelerate its recovery. The remaining capital is expected to come from additional unnamed institutional investors. HRB said it also has plans for a $20 million offering of common stock to its existing shareholders at a price that will equal that paid by the institutional firms.
Having been party to two merger transactions, Gateway is the successor of the Bank of Richmond. Its Richmond branches account for approximately $268.7 million of the region's deposit market share.
The capital announcement comes at a trying time for the $3 billion holding company. Since completing its acquisition of the former Gateway Financial Holdings in December 2008, HRB has battled a deteriorating loan portfolio, consisting largely of souring loans originated by Gateway prior to the deal.
Gateway Financial acquired the Bank of Richmond in 2007.
Doug Glenn, HRB's general counsel and COO, did not immediately return a call.
Illustrating its desperate need for capital, HRB has agreed to give Carlyle and Anchorage each 23.1 percent ownership of the company in exchange for the capital.
The deal also calls for the Treasury to exchange the preferred shares it held from the TARP transaction into HRB common stock, giving the government and thereby the taxpayers, a 6.4 percent ownership stake of the company.Treasury also already holds warrants for the future purchase of an additional 1.32 million HRB shares.
HRB has also agreed to cut the size of its board of directors in half, from 18 to 9 members, two of the seats of which will be filled by representatives from Carlyle and Anchorage.
The capital raising deals must still be approved by shareholders and regulators. The HRB board has already given its approval.