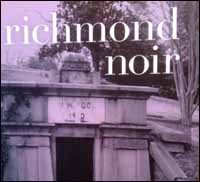 A new anthology of short stories set in Richmond is flying off the bookshelves.
The stories in "Richmond Noir" are set in familiar places, including the Prestwould building towering over Monroe Park in the heart of VCU, the small town Sandston in Eastern Henrico, the paved-over slave cemetery in Shockoe Bottom and the James River Park.
"I had heard [from the publisher] there were only 500 copies left in the warehouse, so maybe there will be another printing," said Tom De Haven, one of the book's editors and a professor at Virginia Commonwealth University.
Brooklyn-based Akashic Books published the collection of 15 short stories, mostly by local authors. Akashic has published dozens of different books in their noir series, each set in a different city.
De Haven said he isn't sure how many copies were made during the first printing.
Noir is a genre inspired by the black-and-white crime movies of the 1940s, and its gritty cautionary tales imagine what goes on in dark corners of the city when no one is watching.
And Richmonders are eating it up.
De Haven said he and fellow editors Brian Castleberry and Andrew Blossom have been making appearances at bookstores as well as on radio and TV for the past three months.
"We've had somewhere between 12 and 14 events where different writers have read their stories," said De Haven. "It's been exhausting."
One of the first appearances, he said, was at the Barnes and Noble off Libbie Avenue.
"We did a signing there and signed about 100-something copies," said De Haven, "We signed a whole bunch to keep in stock. Less than week later, I went to pick up a few, and they were all gone."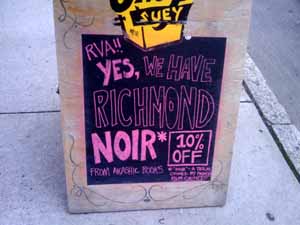 Ward Tefft, owner of Chop Suey Books in Carytown, said the book has been a best seller at the shop since it came out at the beginning of March.
"I've sold a few hundred, which is pretty good for us being a smaller shop," said Tefft.
He said he is selling about 10 or 15 a week now and ordering 50 at a time. Blossom also works at the shop, Tefft said.
"These guys worked hard editing the book," said Tefft. "It's pretty solid."
Tefft has partnered with a citywide book club called River City Reads and agreed to sell the book for 10 percent off the cover price.
The book was the first selection of River City Reads, a program launched out of local strategy and advising firm The Frontier Project. (You can read more about them here.)
Carra Rose is the leader of that program, which picks a book every few months and encourages Richmonders to read and discuss it. Rose is in the process of setting up a discussion forum on the group's website.
Rose said the book was a good first choice because it features the work of so many Richmond authors and would generate interest in the group.
"It is not your typical book club pick, because it's gritty and about the underbelly. It has a definite cult following in the city," Rose said.
The club sponsored a book reading with the writers at Gallery 5 a couple of weeks ago that attracted more than 50 people, she said.
De Haven said Richmond is probably one of the least populous cities to have a dedicated anthology. The first book in the series is "Brooklyn Noir," and others cities include San Francisco, Miami, Seattle and New Orleans. Even international cities like Rome and Istanbul have them.
"The funny thing about these books is that they have to sell outside of their own cities to make money," said De Haven.
Part of achieving that, he said, is getting nominated for mystery writing and other awards. This year, a story from "Phoenix Noir" won an Edgar Award (so named for a famous literary figure who called Richmond home) for best short story, and a story from "Boston Noir" was nominated.
"If you get nominations for the Mystery Writers of America awards, it will prolong the life of it and hopefully get some sales elsewhere," said De Haven. "Mystery writers will gobble these things up. It doesn't matter that it is necessarily set in Richmond."
That would be good news for De Haven and the other editors, who have yet to see a payday for the three years of work spent on the anthology.
"We haven't made a dime," he said. "We did this without any advance."
De Haven said the writers get a flat fee up front, and then twice a year the publisher, editors and writers will divvy up their varying shares of the profits.
"It's been a real success, and we had a good time with it," said De Haven. "I've had bad publishing experiences in the past and this wasn't one of them."

Al Harris is a reporter for Richmond BizSense. Once upon a time he took a screenwriting class taught by Tom De Haven, but is still waiting for the movie studio to get back to him.