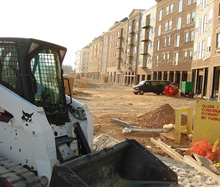 An arm of a local insurance giant invested in a Richmond-based private equity fund that buys distressed real estate projects with the goal of righting the ship and coming out with a handsome return.
Markel Ventures, the investment division of the Markel Corp., announced Thursday that it now owns 50 percent of the management of E|Class MB Partners and has invested an undisclosed amount in the fund itself.
The new fund will be called Markel|Eagle Asset Management.
E|Class  looks to put money and its expertise in the homebuilding industry into properties that have fallen behind on loan payments. The fund invested about $9 million in West Broad Village, the mixed-use project in Western Henrico that was near default in late 2009. E|Class  paid off mechanics liens that were filed against the project and seems to have jump-started the leasing of commercial space and apartments. (You can read a Q&A with E Class's founders here.)
The two parties started talking about a deal three months ago, said Stan Manoogian, one of the founders of the fund.
"We are excited by the fact they view our approach as dovetailing with their long-term common sense approach," Manoogian said. "The addition of Markel to the fund manager and the fund increases both the size and number of opportunities in which fund can be involved."
The investment is a bit of a departure from those made recently by Markel Ventures, which include less flashy sorts of businesses like a furniture company, a dredge-building company and a mobile home management business.
But Markel said it likes the local knowledge of the E|Class  principals and their approach.
Bruce Kay, managing director of investor relations at Markel, said he was drawn to the fund's goal of trying to make sure all parties involved in a distressed real estate project align their interests.
"Most of these venture [real estate] funds are trying to steal [a bargain basement deal]," Kay said. "They buy it and hope someone pops up later on."
"These guys are more interested in assessing a market and bringing something that has value."
Kay said that by investing in both the management and the fund itself, Markel will have a stake in current investments, including West Broad Village. Markel's headquarters is in Innsbrook, close to West Broad Village.
Markel likes to make local investments when appropriate, he said. The company, for example, was an investor in First Market Bank.
The board of managers will be:
•    Bryan Kornblau, chairman and founder of Eagle Construction of Virginia
•    Stan Manoogian, managing partner at Piedmont Capital Partners
•    Robert Ohly, president of Eagle Construction of Virginia
•    Tom Gayner, president and chief investment officer at Markel
•    Michael Heaton, senior director at Markel
Aaron Kremer is the BizSense editor. Please send news tips to [email protected].