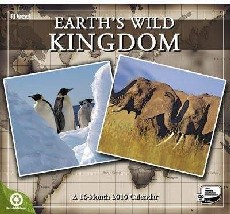 Richmond-based packaging giant MeadWestvaco will stop producing its "Earth's Wild Kingdom" calendars, settling a 4-month federal trademark infringement case brought against it by Mutual of Omaha, according to a report from the Omaha World Herald.
The Herald originally reported on the suit in February, filed in federal court in Nebraska after a Mutual of Omaha employee saw MWV's calendar in a drugstore.
The Nebraska-based insurance company said the calendars infringed on its long held trademark of the phrase "Wild Kindgom" and that the animals depicted within are some of the same used in Omaha's own calendars. The company said in the suit has spent in excess of $100 million since the 1960s building and promoting its Wild Kingdom brand and said it has distributed at least 2 million of its own calendars under that trademark.
The suit claimed MWV was trying to piggyback on the goodwill Mutual had developed with the trademark over the years.
In addition to its claims of trademark infringement, Mutual sought damages for unfair competition and deceptive trade practices.
The details of the settlement, according to the Herald:
"In an agreement and permanent order approved by Judge Joseph Bataillon, MeadWestVaco agreed not to sell the calendars in the United States or to use "Wild Kingdom" on future calendars, and each company agreed to bear its own legal expenses."
BizSense previously reported on the suit when it was filed in February. Read that story here.