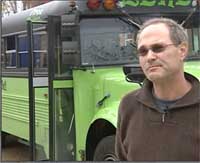 In August, Jim Porter founded "To the Bottom and Back," a free late-night shuttle service connecting the Fan and Shockoe Bottom via Main and Cary streets. His two converted school buses run on a continuous loop three nights a week through the heart of Richmond's nightlife, servicing more than 2,000 people each weekend.
And the cab companies are livid.

"Sometimes the cab companies will call us and hang up, or swear at me or tell me I better watch out," said Porter.
On three or four occasions, 2BNB has called the Richmond police. Porter referenced one incident of a cab driver cutting in front of a bus and slamming on the breaks repeatedly.
"I don't want to whine every time," said Porter, "but I'm afraid the buses will get vandalized or the tires will get slashed."
Porter, who drove a cab for six months while developing the idea for 2BNB, says he initially approached several cab companies asking for advertising to help fund drunk driving literature.
"I pitched to Yellow Cab and some of the other companies about getting their numbers out, because I know I can help their business," said Porter. "I take a lot of people to cabs every night, and I know I could give a cab company 60 trips a week."
Deborah Roger of Deb's Taxi is one of the more outspoken opponents of 2BNB, even calling the service illegal on the organization's Facebook page. Roger's main issue is 2BNB's shuttling of special events, specifically the Strawberry Hills races a few weekends ago.
"They're advertising one thing and doing something else," said Roger. "It's supposed to be a shuttle. Shuttles and taxis are different things. That's what I'm calling illegal."
Roger said she typically makes a lot of money on the weekend of the races but wasn't able to get as many runs as in the past, and she attributes this to Porter and his buses. She also says 2BNB's regular late-night run threatens the health of Richmond's cab industry.
"He's affecting our livelihood," said Roger. "We can't make money on the weekend because everyone wants to get on the bus. Our work is being taken because someone put the word free in front of it."
When Porter first heard of Roger's comments on Facebook, he called her at 4 a.m., when his shift was over, waking her up.
"I told her that we're absolutely not illegal," said Porter. "If we were illegal, Richmond would have shut us down by now."
One of Porter's more serious allegations also comes from the Strawberry Hills races, and involves the two-year-old Napoleon Taxi Service. On that day, a 2BNB driver informed Porter that a Napoleon driver was cursing at the bus, saying, "Tell Jim we're going to f**k him up."
Napoleon President Jonathon Trainum said that he doesn't think a Napoleon driver worked the races but that he takes such allegations extremely seriously. Once informed of the claim, Trainum attempted to contact Porter, but no meeting has occurred.
Trainum, whose 14-taxi fleet is the second largest in Richmond, views 2BNB in a much more favorable light than Roger does and says the service has had a neutral to positive effect on his company.
"It hasn't really affected us that much," said Trainum. "If a cab is sitting outside of a bar, and the bus has just left, that person is more likely to hop in one of our cabs than sit around waiting for a bus."
Trainum said he does wish the buses were subject to the same type of regulations as cabs, but he cited the economy as a more serious threat to his business.
Porter names Veteran's Taxi and Yellow Cab as other sources of harassment.
"My goal is not to put people out of work," said Porter. "I have bigger ambitions than that."
A reporter called the bus down to Shockoe Bottom in an attempt to witness any form of harassment, or bus-over-cab preference. He told the driver he was waiting at the corner of Stafford and Cary, deep in the Fan.
Only one bus was running that night, and after 20 minutes the green-and-black school bus appeared. The reporter signaled to the bus, and one of the riders raised a red cup, but the bus did not stop.
Drew Jackson is Richmond-based journalist. Please send news tips to [email protected]