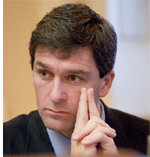 Let the battle begin.
U.S. District Judge Henry Hudson will hear arguments on July 1 as to whether Virginia has the jurisdiction to sue the federal government over the healthcare reform bill recently signed by President Barack Obama.
Virginia Attorney General Ken Cuccinelli filed the suit in U.S. District Court in Richmond within hours of the bills passage, arguing that the bill exceeds the powers of Congress by requiring citizens to buy health insurance. Since then 20 other states have filed suits arguing the bill is unconstitutional.
Business Week reports:
U.S. District Judge Henry Hudson said he would proceed with the arguments on the state's jurisdiction and whether to throw out the claims after finding that settlement talks wouldn't be productive, setting the stage for the first challenge to the lawsuits.

"These issues I don't think are resolvable," Hudson told lawyers in Richmond, Virginia, today.

"The Commonwealth does not have standing to sue the federal government to exempt Virginians from the operation of federal law," the U.S. wrote in a filing last month. "Because Virginia alleges no actual or imminent injury to its own interests as a state, it may not pursue its claim."

…

The U.S. counters that there is no standing to sue and that nobody has suffered any injury, as the minimum coverage provision does not take effect until 2014.
If Cuccinelli gets his way on July 1, a hearing on the legal disputes of the case is scheduled for October 18.