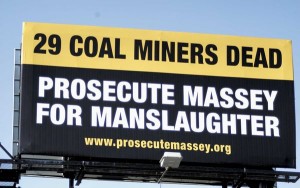 An anti-Massey Energy group has begun a billboard campaign in West Virginia pushing for prosecution of the Richmond-based coal mining company.
According to a report from the Martinsburg Journal in Martinsburg, W.Va., a group called Prosecute Massey, part of Washington, D.C.-based non-profit the Daily Citizen, has purchased billboard space around West Virginia bearing the message "29 coal miners dead" and "Prosecute Massey for manslaughter."
The campaign is in response to the April 5 explosion at Massey's Upper Big Branch mine in Raleigh County, W.Va., that killed 29 miners.
Prosecute Massey is also seeking signatures for a petition to persuade West Virginia officials to pursue prosecution against the company.
Read more of the Martinsburg Journal story here.
One of the group's organizers also claimed that some billboard companies around West Virginia have been hesitant to sell Prosecute Massey space, according to a report by West Virginia Public Broadcasting.
A Massey spokesperson responded to those claims, according to WVPB, saying that the group is politically motivated and has "no interest in objectively acquiring all the facts."
Read more about that here.