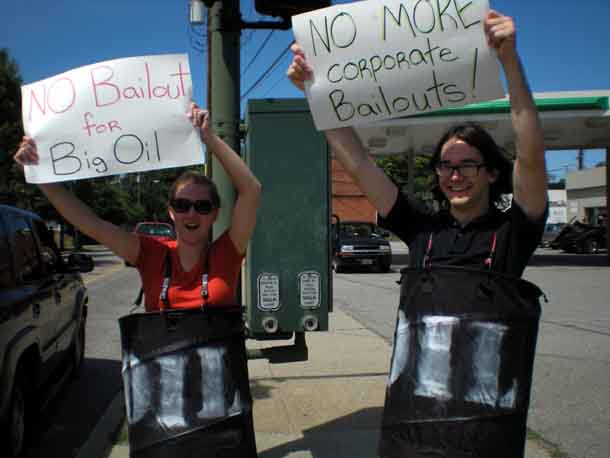 A small band of protestors, some wearing homemade oil barrel costumes, seized the moment yesterday by gathering at the Cary Street BP to call for Virginia Sens. Jim Webb and Mark Warner to vote against federal legislation deemed by some as pro-big oil and anti-environment.
"No bail out for big oil," one protest sign read. "Jim Webb: Aren't you concerned about the Gulf," read another.
The subdued rally was one of many being organized in a dozen states around the country in the next two days to call attention to legislation being called "Murkowski's Big Oil Bailout," by environmental groups.
The bill, introduced by Lisa Murkowski (R-Alaska), would diminish the Environmental Protection Agency's ability to regulate carbon emissions.
Murkowski's bill, due for a vote in the Senate this week, would "gut the Clean Air Act," said J.R. Tolbert, an advocate for Environment Virginia, the non-profit that staged the local protest.
If the bill is passed, Environment Virginia estimates that 13 million more gallons of gas will be consumed by Virginians in 2016. Such consumption would do little to wean American's off its dependence on oil, which is part of what the group is fighting for as evidenced by a protestors sign that read "It's time to break our oil addiction."
Tolbert said targeting a BP station as the site of the protest was a way to "drive home our point," but not to specifically protest against any local gas station owner.
"At the end of the day, BP is the personification of big oil right now," Tolbert said. "We have no problem with the guys in the station."