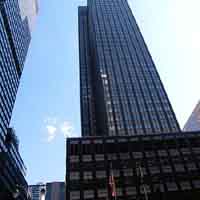 Another group of Richmond lawyers has caught the entrepreneurial bug.
Fifteen lawyers from several LeClairRyan offices have left the Richmond-based law firm to set out on their own.
Murphy & McGonigle opened for business last week with the belief that the firm could capitalize on the bevy of lawsuits that have resulted from upheaval in the financial services sector.
"We perceived a really unique business opportunity to start a new firm that was really well focused on the financial services industry and representing public companies, SEC investigations and some really high stakes commercial litigation," said James Murphy, who led the exodus and is now chairman of the new firm.
Murphy said his colleagues were looking to start a small firm with low overhead and less red tape, giving them the freedom to be nimble and undercut larger firms.
The venture was financed by the new firm's 10 partners, including the leasing of some posh office space in Richmond, Washington, D.C. and New York. The nascent firm leased office space on Sadler Road in Innsbrook, on 13th Street in Washington, D.C. and on Park Avenue in New York.
"There are some really good deals to be had in office space right now," Murphy said.
The firm's operational hub will be in Richmond, Murphy said, though he wants it to be more identified with D.C. and New York.
Business and clients have followed from their former larger employer as well.
The new firm is already representing many of the locally-based public companies, Murphy said.
"We have formed a business that has a much lower overhead model than the large New York firms with whom we compete." Murphy said.
Murphy and the other 14 LeClairRyan attorneys who made the leap can now operate in a "lean, bureaucracy-free environment with a certain level of autonomy that is not typically available," he said.
LeClairRyan said it will partner with the new firm on some projects.
"We understand why they need to be in a boutique," said Gary LeClair, chairman and CEO of the firm. "And I think they understand why we want our national model."
LeClairRyan hired 26 new lawyers this year, LeClair said, and it has 300 attorneys at 21 offices across the country, making it the fourth largest firm in Virginia.
As for recruiting those 14 to leave the comfort of a large firm for the boutique world, Murphy said it was all done on the up-and-up.
"Partners [at LeClairRyan] are permitted to speak with each other in those kinds of circumstances," Murphy said. "We did not do any other recruiting within the firm until we announced to management of our intentions."
And the leadership at LeClairRyan is okay with that.
"These are great lawyers," LeClair said. "We are going to work collaboratively going forward. There will be no one rooting for their success more than we will."

Michael Schwartz is a BizSense reporter. Please send news tips to [email protected]