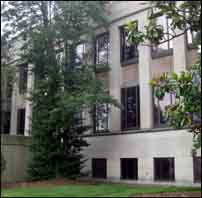 An office building in Richmond's near West-End may become 88 apartment units if the developer can get the 1946 structure certified as a historic property and qualify for tax credits.
David Gammino, principal of Gammino Realty & Development and City & Guilds Builders, confirmed he has a contract to buy the Universal Leaf Tobacco Company's former corporate headquarters at Broad and Hamilton streets for an undisclosed price. The contract is scheduled to close at the end of December.
Gammino formerly worked as an attorney before starting a general contracting firm five years ago. He finished his first project as a developer at the end of last year and currently has another project under development—both of which used historic tax credits for funding.
The Universal Leaf property is appraised by the city at about $7 million.
Gammino said the purchase is contingent on obtaining the historic structure certification. Historic tax credits provide up to 45 percent of a project's financing. He and a silent development partner (Gammino said it's a local developer) are planning a $9 million renovation of the four story building to begin in 2011, Gammino said.
The apartments would rent for $900 to $1,300 a month.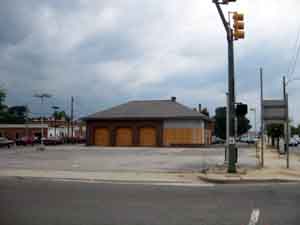 The parcel also includes the shuttered gas station and parking lot on the other side of Hamilton Street. Gammino said he may seek to develop that lot and part of the Universal parking lot as retail pad sites. The total parcel size is 4.11 acres.
The property has been available since 2008 when Universal relocated to a smaller office on the South Side. The timing was less than ideal for finding a quick buyer, as the economy was sliding a deep recession.
"The property wasn't able to attract a commercial tenant in this market," Gammino said.
Gammino said the property is a good candidate for a new use as a residential property because of its proximity to major interstates and the existence of ample onsite parking.
"What makes this property different from a typical historical tax credit deal is that it is in pretty pristine condition, as opposed to a dilapidated industrial shell," Gammino said.
Johannas Design Group has been tapped as architect for the project, with Gammino's construction firm as general contractor.
Gammino also has a contract on the Harvester Building at 1709 E. Clay St. in Shockoe Bottom that is set to close in August for an undisclosed price. He plans to develop that property first, with the same partner as the Universal project.
That six-story warehouse was a part of the Richmond Cold Storage complex, which is a group of several separate industrial buildings. Most of those are in various stages of development by Historic Housing, which also developed the lofts at Canal Walk. So far they have completed one of the five buildings they own there called The Atrium Lofts at Cold Storage.
Gammino said the anticipated budget for his Harvester project is $5.3 million. The plans, to be drawn by Commonwealth Architects, call for 36 apartments and up to 7,200 square feet of commercial space on the first floor.
Gammino currently has a 15-unit project under construction at 408 N. 3rd St., a former storage building for the A.D. Price Funeral Home. You can read more about that here.
Further reading:
Al Harris covers commercial real estate for BizSense. Please send news tips to [email protected].