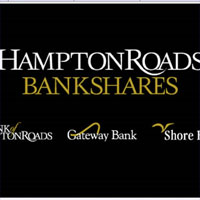 The troubled Norfolk-based successor of Bank of Richmond yesterday became the latest bank to enter into an agreement with federal and state regulators by which it must devise a turnaround plan.
Hampton Roads Bankshares, the $3 billion parent of the faltering Bank of Hampton Roads, acquired Gateway Financial Holdings and Gateway Bank in 2008. Gateway acquired Bank of Richmond in 2007 before being merged into HRB. Five former Bank of Richmond branches in the area now carry the Gateway flag.
The Federal Reserve announced Thursday that it and HRB, along with the Virginia State Corporation Commission will work to, among other things, lessen Bank of Hampton Roads' concentrations in commercial real estate lending and how to manage problem assets and the foreclosed real estate tied to them.
It is the second bank in the Hampton Roads market to fall under a Fed turnaround agreement, joining the Bank of Currituck.
Locally, Bank of Virginia and Virginia Business Bank are currently under similar agreements and Central Virginia Bank has said it expects to do the same sometime during this current fiscal quarter.
Emails to HRB CEO Andy Davies and COO Doug Glenn were not responded to by press time. But Davies did release a prepared statement.
HRB previously announced it expected this day to come and has been making moves in anticipation of the agreement being formally announced.
"Many of the issues discussed in the Agreement are ones that we have been working on for some time through our internal plan," Davies said in a prepared statement. "We have made good progress on several fronts, but we recognize that we have more work to do."
HRB has hired staff specifically to deal with non-performing assets. It also created a website devoted solely to marketing the millions of dollars of foreclosed properties it has on its books.
See its foreclosed properties around Richmond here.
Joe Face, commissioner of the SCC's Bureau of Financial Institutions, said HRB does seem to have a good grasp on what it needs to do to improve its condition.
"I would say that [HRB] management appears to have things under control and are moving in the right direction," said Face.
The agreement also requires HRB to prove how it plans to raise badly needed capital. The company announced recently a plan to raise $255 million in fresh capital, including agreements for $145 million from Affiliates of The Carlyle Group and Anchorage Advisors LLC and a planned $20 million it hopes to raise from existing shareholders.
In a recent letter, Davies reassured the "people and communities" HRB serves.
"We believe that the investment firms participating in this offering share our confidence in the future of our regions, the underlying strength of the Hampton Roads Bankshares franchise and the quality of our people," Davies said.
But there is a price to be paid for that confidence. In exchange for the capital, HRB has agreed to give Carlyle and Anchorage each 23.1 percent ownership of the company.
The deals will mark the first round of capital HRB has been able to raise since it took $80 million from the U.S. Treasury Department in December as part of the Troubled Asset Relief program's Capital Purchase Program, designed to infuse healthy banks to help them sustain the economic downturn.
HRB also announced that the Treasury will exchange the preferred shares it held from the TARP transaction for HRB common stock, giving the government and thereby the taxpayers, a 6.4 percent ownership of the company.
"Raising the level of capital the company recently announced is a major positive development," Face said.
The company lost $24.78 million in the first quarter of 2010, fueled by $276.7 million in non-performing assets including $25.2 million in foreclosed properties it's holding on its books. NPAs have risen by $20 million since Dec. 31. That follows a loss of $145 million in 2009.
Through its three bank brands including Band of Hampton Roads, Gateway Bank and Shore Bank, HRB has 60 branches in Virginia, North Carolina, and Maryland. Its Richmond branches account for approximately $268.7 million of the region's deposit market share.