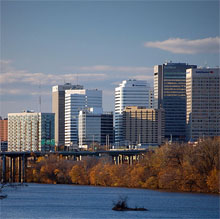 Well, it could be worse.
According to the MetroMonitor, a quarterly report produced by the Brookings Institution, Richmond falls in the middle of the 100 largest metro areas in the U.S. when comes to economic performance.
Richmond was placed among the middle 20 metro areas for overall economic performance. (The overall category does not assign specific numbers.) Our neighbors in Norfolk/Virginia Beach landed in the second strongest 19 metro areas, while Washington/Northern Virginia placed in the top 21 metro areas.
Overall performance is based on four factors: percent employment change from the last peak to the first quarter of 2010, percentage point change in unemployment from March 2009 to March 2010, percent Gross Metropolitan Product from peak to quarter to the first quarter of 2010 and the percent change in the House Price Index from the first quarter of 2009 to the first quarter of 2010.
Richmond was ranked 41 in terms of change in employment from the peak, which was during the third quarter of 2007, for a negative change of 5.6 percent. That is slightly less severe than the 100-metro average of negative 6.4 percent.
The one year percentage change in unemployment was one point, earning Richmond a rank of 48.
Richmond's strongest performance was in the Gross Metropolitan Product change from the peak, which was in the first quarter of 2008, for a positive change of 1.6 percent. Richmond ranked number 16 by that measure. Also notable, Richmond ranked ninth in terms of GMP change from the fourth quarter of 2009 to the first quarter of 2010, a total increase of 1.5 percent.
Richmond fared worse in the housing prices category, where a home price decline of 10.5 percent placed the metro area at No. 67.