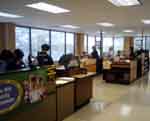 In July, some 175 employees will pass through the doors of the Kroger Training Center and spend at least 50 hours training for the job.
The new employees are part of Kroger's latest expansion in the Richmond market: the 86,000-square-foot store at the Corner at Short Pump.
That store is opening in July, but it is just one of the pieces of a $81.5 million investment the Cincinnati-based chain is putting into its area stores. That involves remodeling six stores, adding a handful of fueling stations and expanding the two stores in Carytown and Midlothian.
The grocery store's training center on Staples Mill Road, just north of Broad Street, has trained 850 employees since it opened in 2008. District Manager Joe Antolini said that although it is costly to operate, the investment improves the company's customer service and keeps repeat consumers coming back.
"There are a lot of small little things that people don't realize go into this," said Antolini. "It isn't just putting a few cans on the shelf and opening the door."
Kroger arrived on the Richmond scene about 10 years ago when it purchased several stores that were operated by Hannaford's.
In addition to moving the existing Short Pump store across from West Broad Village to the Corner at Short Pump location, the grocer plans to start work on a new location at the site of the defunct Cloverleaf Mall toward the end of the year.
"I think that you're going to see some of those buildings start to come down soon," said Antolini of a plan by Crosland and Chesterfield County to redevelop Cloverleaf Mall into a mixed-use retail and residential hub.
Kroger started remodeling stores last summer. Since then, hometown grocer Ukrop's sold to Martin's for $140 million. Martin's proceeded to invested tens of millions of dollars to upgrade those stores.
According to the recently released Food World report, Kroger is the fourth largest grocer in Richmond, with 11.45 percent of the market. Wal-Mart was third, and for the second consecutive year Food Lion bested Ukrop's with almost 20 percent of the area market.
Al Harris is a BizSense reporter. Please send news tips to [email protected].