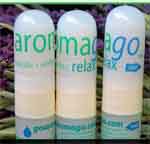 A year after winning a university business plan contest, two pals now ready to start selling their first batch of products.
Former roommates Chris Genualdi and Dan Brunt started Aromago last year. Now the company has new name (it was called Sniff Stick when they launched it in 2009), 6,000 sleek capsules sitting in Genualdi's New Jersey home, and a dream: that consumers around New York City and wherever online will pay $5 for a small vial of scented oil, hoping to tap into a growing natural/organic craze.
One flavor is called "Revive" and another, "Relax".
They also have a website where customers can order the product online.
"We are aiming for new-age consumers, those who are into yoga, or alternative health products, or organic consumers, plus those who are looking for relaxation or already using essential oils," Genualdi said.
The two former UR business students have added a third member to their business and spent another $8,000 more from their personal savings on the business, which sells capsules of pleasantly-scented oils meant to bring a moment of refreshment to consumers.
The friends stumbled across the concept while traveling in Thailand. As the business plan contest hosted by the University of Richmond's Robins School of Business, the twosome said they believed Americans would also enjoy a refreshing and portable scents. (You can read about their business plan victory in a story here).
Since opening for business a few weeks ago, the company has sold around $400 dollars worth via the website, said Genualdi, who has since moved to the Lake Tahoe area of California. He said he's worked odd-jobs, including bar-tending, while finding out how to produce the bottles and the oils. Brunt has been working full-time in consulting but wants to move to New York City and perhaps find a part-time job while trying to get Aromago off the ground.
"We worked a lot with suppliers sourcing the container and sourcing the oils at a manufacturer who creates flavors, scents and fragrances," Genualdi explained, adding that the challenge now is to get the word out. So far the partners are telling all their friends and relying heavily on social media such as Facebook and Twitter.
"We also want to reach out to bloggers. They have a lot of pull with consumers. If you get a good write-up, then you can get massive exposure."
"The way consumer trends are moving, it seems the right time for the product. It's like five hour energy, or Monster energy, or Red Bull, it helps people get through the day. What we're offering is something more organic and there is nothing out there in the market."
Genualdi said he'd like to use the proceeds of this first batch of product to buy the next batch. Eventually he hopes to drive down the per-unit cost and become more profitable. He said he'd also like to take the concept to investors once his team proves the concept.
As for the name of the new company, Genualdi said he and his partner/former roommate came up with it a few weeks after the business plan contest last spring.
"Dan and I were carrying a TV out of our on-campus apartment and I said, 'What do you think about the name Aromago."
"We were talking bout aroma therapy on the go, so Aromago sounded right for the product."
Aaron Kremer is the BizSense editor. Please send news tips to Editor(at)richmondbizsense.com.