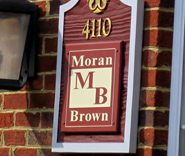 Three lawyers needed some late-night packing to gather their possessions before moving across town to another law firm.
Eric Reeves, Brian Schneider and Martin Conn left the law firm Moran Brown for Gregory Kaplan last week. The three practice commercial liability defense litigation.

"Another shareholder returned to the office to work last Thursday night and unexpectedly came upon the three packing their personal belongings and removing them to their cars," wrote Brick Brown in an email to RBS. Brown is a partner at the law firm that bears his name.
Rob Kaplan, managing partner at Gregory Kaplan, didn't discuss the after hours circumstances.
"It all came together fairly quickly," Kaplan said.
The firm had developed relationships with the three lawyers and saw an opportunity to combine their experience in national litigation with Gregory Kaplan's national transaction practice, Kaplan said.
No matter the circumstances, Kaplan is happy with the firm's sudden growth.
"It's great news for us," Kaplan said. "These are great guys with a great book of business [and] great reputations."
Brown said the stated reason why the three left Moran Brown "was that the two shareholders did not feel as if they had a large enough voice in firm governance."
Two of the three were shareholders at Moran Brown. All three will become shareholding partners at Gregory Kaplan.
Gregory Kaplan, which was founded in 2006 and also has an office in Washington, now has 22 attorneys, Kaplan said, with plans to increase that number to 28.
"We're going to do some hiring associated with this move," Kaplan said.
Moran Brown, as of last Thursday, the night in question, has 12 attorneys and 29 total employees, Brown said.
Michael Schwartz is a BizSense reporter. Please send news tips to [email protected].