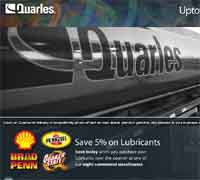 Richmond-based Matrix Capital Markets Group announced yesterday that it had brokered the sale of Quarles Petroleum's 20 gas stations and convenience stores for an undisclosed amount. Fourteen locations were acquired by 7-Eleven.
According to Cedric Fortemps, a senior vice president at Matrix, Fredericksburg-based Quarles decided last year that it wanted to get the most money it could for its retail operations in Virginia to put back into its fuel business.
The longtime family owned company was founded in 1939 with a single truck selling oil. Today it distributes 150 million gallons of fuel, heating oil and propane each year and has 500 employees in seven states.
"They are a company that no longer wanted to be the in retail gasoline and convenience store business," Fortemps said.
It took the Quarles board and shareholders a while to decide what they wanted to do and another seven months to close the deal once their minds were made up, Fortemps said.
7-Eleven purchased all but six of the Quarles stores and will convert them into 7-Elevens that will be eventually offered as franchises. The remaining stores were purchased by other unnamed buyers.
It's the second large sale of convenience stores in Virginia in the past month.
In early June, private equity firm Catterton Partners acquired a majority interest in Richmond-based Uppy's Convenience Stores.
"It's just an industry where there is a lot of consolidation going on," Fortemps said.
That consolidation includes acquisitions of small firms by some large national and regional companies, Fortemps said.
"It's also individuals interested in buying a business," he said.
Quarles employees were offered jobs with 7-Eleven, the company said in a news release yesterday. 7-Eleven now has 674 stores in Virginia.

Michael Schwartz is a BizSense reporter. Please send news tips to [email protected].