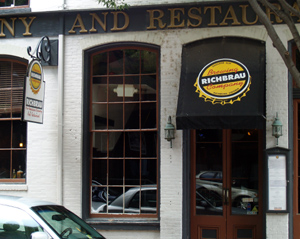 The owners of the Shockoe Bottom space that formerly housed Richbrau Brewery are fielding a handful of potential tenants.
Amy de Venoge of Secam Inc., a local real estate firm that owns the space, said there are about five parties that have expressed interest in leasing the prime Shockoe space — some serious, some just tire-kickers.
"We do have three solid interested parties," said de Venoge.
She said she could not discuss details about any of the interested parties, including the nature of their business or what the space might be used for.
"All of them have asked that we not speak about it," de Venoge said.
She did say much of the interest has come from the local area.
"The only candidates that we feel are serious are in town."
The 40,000-square-foot space has been dormant since February, when Richbrau declared bankruptcy. Read more about the bankruptcy here.
As for when a lease might be signed, de Venoge said the process has been held up largely because of the bankruptcy process. Richbrau and its assets are in liquidation in the hands of a court appointed trustee.
"For many different reasons, one of them being the fact that we have to work within the confines of the bankruptcy, there is no set timeline," de Venoge said.
About a month ago, a gang of movers was seen loading the large copper brewing vats of the shuttered brewery onto a flatbed truck, bound, one of the men said, for Colorado.
Richbrau's brewing equipment was owned by Secam, de Venoge said, and they sold the lot of it to a wholesaler named Jason Ager.