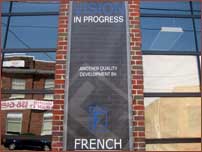 A dispute between a Richmond developer and one of his investors has left several local contractors in the lurch, and at least one has already sued.
While developer Justin French tries to restructure several real estate deals in order to remove partner Markel Corp. from them, past due bills from contractors are starting to pile up and so are hundreds of thousands in mechanics liens.
As reported in a previous RBS story, French said that Markel will not put in additional funds to complete historic renovation projects that ran over budget. That's become a problem for local contractors who worked on the projects, and the mechanics liens might become a problem for the banks that have lent millions for French's projects.
Not all contractors speak to French regularly, but those who do said that they were told they would be paid when the Markel feud is worked out. Contractors sometimes file mechanics liens as a precaution to make sure they will get paid, because the property cannot typically be sold clean and clear until the liens are settled.
Seven properties have a total of $539,000 worth of active mechanics liens, according to a BizSense property search, including the stalled condo conversion project at 3031 Norfolk St. that is at the heart of French's dispute with Markel Corporation. The work is for services such as engineering and drywall, as well as construction supplies.
All of the outstanding liens are from this year.
David Gammino, principal of the construction company City & Guilds, said he was in the process of filing about $300,000 in new liens when reached for comment yesterday. Half of those are for work performed on the Norfolk Street condo conversion project, and the rest for work performed on other projects.
"We want to do what we can to protect our interests in the event that the building is conveyed to someone else," Gammino said.
French has said that Markel has refused to release funds tied to historic tax credits that he says are needed to finish the project. Markel has declined to comment when contacted.
French "is basically telling us the same thing he is telling everyone else," Gammino said. "If Markel pays him, he will pay everyone else. At this juncture, it doesn't look like Justin and Markel are going to work anything out together."
MGT Construction Management filed a lien June 28 against the 3031 Norfolk property totaling $137,151 for kitchen cabinets and granite. Armstrong Wood Products, the Texas company that furnished the materials for the cabinets, also filed a lien for $14,377. Sherwin Williams has filed a lien of $18,791 on the property.
French also owns 2039-2049 W. Broad St., another apartment conversion project that is accumulating liens.
Green Air Inc, a plumbing and HVAC contracting company owned by Nathan Roady, has filed the most.
Roady filed liens in February of $84,780 for plumbing and $61,800 for HVAC work. He is also suing French and general contractor Cityspace Construction to recoup payment with legal fees and interest. A hearing on that matter is scheduled in Richmond Circuit Court for this month.
Roady said French has made no recent attempts to pay him what he is owed for the work done on the project.
"I just got to get paid," said Roady. And not only for 2039-2049 W. Broad St.
"We've done work on about 15 of his properties. He owes us money for service and repair work — about $20,000 — and it has nothing to do with Markel or anything like that," Roady said.
(Story continues after the slideshow)
"We are going to court, so we will see what happens," Roady said.
French disputes Roady's claims and says he was not aware when work began that Cityspace had hired Green Air to do it. He thinks Cityspace ought to be paying Green Air, although he says he has tried to settle the bill with Roady himself.
Blue Crump, owner of Cityspace, said French was fully aware of the contract with Green Air.
Crump also said Cityspace has been paid for the work they did and that French does not owe him anything. He said that French does still owe the roofer and mason on the project, although they have not filed any liens on the property.
The reason money is tight is because of the conflict with Markel, French said, adding that Paragon Commercial Bank refused his request for additional funds needed to finish the Broad Street property. He said he sought the additional funds because Markel refused to pay him for tax credits he had expected to receive from other projects.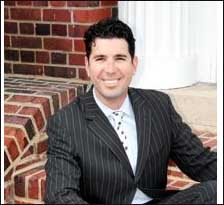 Now French has stopped making loan payments on that property, among many others. French said that Paragon told him they were going to send him demand letters but that he has not received any yet.
Paragon has previously said it does not comment to the press about loans.
French said he expects one of three things to happen to the Broad Street property: The bank could foreclose and sell the property to a third party, in which case the bank would have to pay off the liens to have a clear title to the property or Roady could acquire the property.
French said Roady expressed interested in talking to the bank about it but Roady said he was not seeking to take over the property.
"Or the third option is that the bank does what I originally asked them to do, which is restructuring the loan, and I could work out an
equitable settlement with Green Air, which does not preclude them from going after Cityspace for the full amount," French said.
French addressed the other liens on his holdings as well.
As for MGT Construction's lien on the 3031 Norfolk St., French said Markel should be responsible because they have not paid for cost overruns to which he claims they verbally agreed to.
As managing partner however, French is still on the hook.
"It is my intent to pay them," French said. "It's just a timing issue."
The same goes for other contractors to which French acknowledges that he is behind in paying.
"It is not that I don't intend to pay them," French said. "I am just regrettably putting them on the same timeframe I am on with
negotiations with the banks."
"Never in my life have I ever stiffed a contractor on a building," French said.
Current liens:
212 E. Leigh St.
ANW Engineering filed a $37,036 lien.
3031 Norfolk St.
MGT Construction Management filed a $137,151 lien.
Armstrong Wood Products filed a $14,377 lien.
Sherwin Williams doing a business as Duron Paints filed an $18,791 lien.
2039-2049 W. Broad St.
ANW Engineering filed a $16,195 lien.
Davis & Green Inc. filed a $35,780 lien.
Crittenden Dry Wall filed a $6,048 lien.
C&H2 Inc. filed a $9,468 lien.
L&W Supply Corp. filed a $15,688 lien.
Green Air Inc filed a lien of $84,788 and a lien of $61,800.

1700 Summit Ave.

ANW Engineering filed a $48,650 lien.
1217 E. Cary St.
Davis & Green filed a $6,391 lien.
Plumber on the Way filed a $15,253 lien.

417 W. Grace St.
Dean Breedlove Masonry filed a $10,477 lien.
1717 Summit Ave.
ETEC Mechanical Corporation filed a $21,400 lien.
Al Harris is a BizSense reporter. Please send news tips to [email protected].