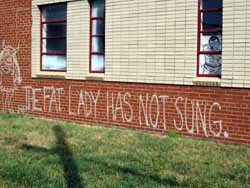 It's not often that a spat over tax credits inspires graffiti artists.
Developer Justin French said he supports the local artists who painted messages on the exterior walls of the Scott's Addition industrial property they rent from him, messages not so subtly aimed at French's tax credit purchaser for the renovated building at 1509 Belleville Ave.
"Markel blows" is one of the more pointed painted messages, referring to the Markel Corporation, French's partner on multiple development projects. French says Markel is not holding up its end of their deal, and he is planning to purposely let banks foreclose on all of the projects they partnered on. (Read more about that in an RBS story here.)
On the other side of French's Belleville Avenue building are the warnings "The fat lady has not sung yet" and "Don't tread on me."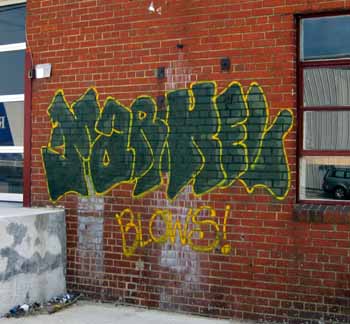 This is not the first time French has commissioned an artist. In late 2009 he had a muralist design and paint a billboard in Scott's Addition. You can read more about that in an RBS story here.
Look for more on Justin French on Monday.
Al Harris covers commercial real estate for BizSense. Please send news tips to [email protected].