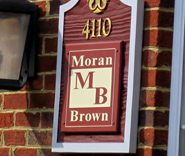 Sometimes the grass just isn't greener.
Three lawyers who packed up their belongings recently and left for a cross-town rival have changed their minds.
Eric Reeves, Brian Schneider and Martin Conn left the law firm Moran Brown for Gregory Kaplan under the cover of night last month. (Read more about that move in an RBS story here.)
But with barely a chance to unpack at their new offices, another deal went down and Moran Brown is now Moran Reeves & Conn.
"After leaving Moran Brown to join up with Kaplan, an unforeseen opportunity arose to return to our law firm and to buy the practice," said Eric Reeves.
According to Brick Brown, previously a shareholder of Moran Brown, that situation played out like this:
Brown said soon after leaving for Gregory Kaplan, Reeves, Conn and Schneider "came to me and said they wanted to start heir own firm. One of the ways they could do that was to buy me out."
Reeves and Conn previously stated that they did not feel as if they had a large enough voice in firm governance, Brown said.
Brown gave their offer some thought and ultimately sold his stake in the firm.
"The numbers made sense to me," Brown said. "My stake in the firm has been purchased."
Conn said he, Reeves and Schneider did not use their sudden exodus as a bargaining tool to get the deal they wanted at their previous firm.
"It wasn't until we were out the door that the option to return became a glimmer," Conn said.
But their move did put some sudden pressure on the future of what was then Moran Brown.
"Employees were going to come with us, and this firm wasn't going to be the same," Conn said. "It ended up being better to work out a deal between us rather than let the firm go by the wayside."
Rob Kaplan, managing partner at Gregory Kaplan, said the trio were there only about a week when they had a chance to go back where they came from and take a controlling interest in Moran Brown.
He doesn't believe they used the sudden move to get what they wanted at the other firm.
"It was sudden, but when they explained the opportunity, we understood what was going on," Kaplan said. "We totally understood their position and wished them well."
Reeves said all the parties left things on good terms.
Moran Reeves & Conn now has 21 employees, including 10 attorneys.
Gregory Kaplan, which was founded in 2006 and also has an office in Washington, now has about 20 attorneys.
As for the night in question when Conn, Schneider and Reeves were found moving out of the Moran Brown office, Conn said it was not quite "as scandalous" as it was made out to be.
"We planned on calling Brick Brown after we got our personal belongings together," Conn said.
As for Brown, he said he is not done practicing law.
"I may just go fishing for a month," he said.
Michael Schwartz is a BizSense reporter. Please send news tips to [email protected].