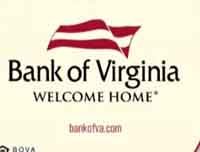 The direction of a local bank could be decided today at a Holiday Inn.
Bank of Virginia shareholders will vote this afternoon on whether to approve a deal that is vital to the bank's future but would give considerable control of the six-year-old bank to an outside party. The vote will take place at the bank's annual meeting at the Holiday Inn in Midlothian.
After losing $5.5 million the past two years, Midlothian-based Bank of Virginia set into motion a deal with a group out of Washington that would inject the bank with up to $15 million in fresh capital.
But along with that cash comes some new management.
If Cordia Bancorp acquires the maximum 5 million shares for $3 each as is called for in the pending agreement, it will own 52 percent of the $217 million bank. The terms call for Cordia to grasp even more control as its chief executive, Jack Zoeller, would take over as chairman and CEO of the bank. Cordia executives and investors would also get six seats on the bank's board. Read more about the initial deal with Cordia here.
Other banks are making similar moves, according to Bruce Whitehurst, president of the Virginia Bankers Association.
"Deals like this are going on around the country, so it's not unique to Bank of Virginia," Whitehurst said. "It is indeed an emerging trend."
Elsewhere in Virginia, the Norfolk-based parent of Gateway Bank and Bank of Hampton Roads announced a deal this month agreeing to give control of more than 40 percent of its shares to two private equity groups in exchange for capital.
If the measure gets passed by Bank of Virginia shareholders, the deal must still be approved by regulators. That approval is likely, as Bank of Virginia is already under regulatory scrutiny for a turnaround plan. Read more about that here.
That agreement with regulators called for raising additional capital. The bank fell below well capitalized status during 2009, before raising $4 million in capital in December, bringing itself back into well capitalized status.
The company did not return several calls seeking comment.
The bank said in its latest proxy sent to shareholders that the Cordia deal "is our best alternative and is in the best interest of the bank and shareholders."
"The additional capital from Cordia Bancorp will further strengthen Bank of Virginia, protect us during this difficult economic cycle, and position us for future growth and expansion in 2011 and beyond," wrote Bank of Virginia CEO Frank Bell III in a recent letter to shareholders.
That expansion, although it hinges on the Cordia deal, could include bidding failed or failing banks.
Bank of Virginia's struggles began in 2008 when it lost $1.3 million. Its losses grew to $4.2 million in 2009. Its shareholders didn't fare well, either. The bank's combined loss per share in the past two years has been $1.82.
In its proxy, the bank reported $6.76 million in non-performing assets for 2009, a $5.5 million increase from the previous year. According to reports it filed with the FDIC at the end of the first quarter of 2010, the bank had $10.1 million in loans classified as past due or in non-accrual status. Those loans were primarily from commercial and land development lending.
Bank of Virginia's deposit base shrunk by almost $4 million to $189 million during the first quarter. Its $168 million loan portfolio shrunk by $3 million in the first three months of the year.
Michael Schwartz covers banking for BizSense. Please send news tips to [email protected].