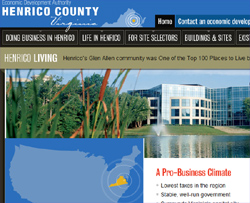 Henrico County Economic Devepment Authority just got a brand new website.
The new site, (http://www.henrico.com)  is a redesign of its previous look, and was completed by Rick Whittington Consulting.
According to a description of the job on Whittington's blog, the county wanted a more user-friendly experience. One new feature is an intereactive map that shows the location of major corporate offices, schools, retail centers and other points of interest.
Whittington also designed the website for Greater Richmond Partnership.
"We decided to focus on improving visitor engagement, knowing that the longer visitors interacted with content on the site, the more likely they would be to consider Henrico County for their company's relocation or expansion.," wrote on his blog.