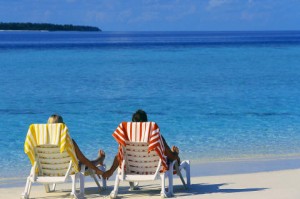 If only all employers had perks like these.
Hard work can get you $2,500 cash and a week-long vacation at local public relations firm CRT/tanaka.
The company today announced its 2010 whatcanbe Award winners. The awards celebrate employees who perform exemplary tasks for the agency, its clients and the community in which it operates.
Now here's where the perk comes in. According to the company's release:
Each recipient receives a $2,500 stipend and a one-week sabbatical to create a personal, life-transforming whatcanbe experience.
CRT's 2010 recipients include general manager Marcy Walsh, associate vice president Jennifer Riggle, and art director Erin Hurley-Brown.
Walsh won for her work on numerous campaigns for client Air New Zealand. Riggle won for building the agency's health care practice. Hurley-Brown was recognized for her work with Richmond non-profit Freedom House that provides services to the homeless. Read more about the awards here.