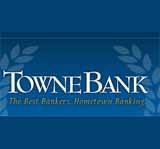 Size matters – even in the banking world.
A small acquisition announced late last week in Hampton Roads will shake up the rankings of the state's largest community banks and could push a Richmond bank off the top pedestal.
As it stands today based on the most recent figures from March 31, Richmond-based Union First Market Bankshares is the largest community bank/bank holding company headquartered in Virginia. It has $3.84 billion in total assets.
Union leaped to the top of the list during the first quarter after the deal to combine the former Union Bankshares and First Market Bank was closed.
Suffolk-based TowneBank, the largest bank in the Hampton Roads market, is in a close second with $3.69 billion in assets.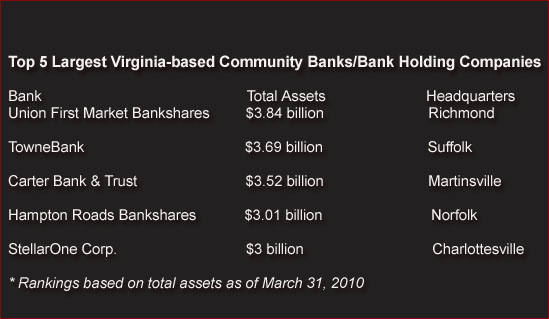 But Towne announced last Friday its acquisition of the faltering Bank of Currituck in a deal that will add $173 million in assets to the bank, shooting its total assets to $3.86 billion and surpassing Union for the number one spot.
Though most bankers modestly brush aside any discussions of size or ranking – in most businesses it's good to be on top.
"There is a certain advantage of having scale," said Tom Tullidge, a partner with Cary Street Partners.
Larger community banks are more likely to get a larger investor following, Tullidge said, and the average customer takes notice of size.
"People like to do business with winners and leaders," Tullidge said.
Union's CEO Billy Beale said he's not too concerned with TowneBank's latest move.
"You may find this hard to believe – it's not my goal to be the biggest bank in Virginia," said Beale. "I'd much rather be the most profitable or have the best shareholder returns."
But as for being the largest, Beale admitted, "People like that."
"It's absolutely the number everybody understands."
The rankings of the state's largest bank constantly fluctuate as banks grow and contract each quarter. Banks' second quarter figures are due in soon, so the shuffle is likely to continue. The biggest jumps in rankings typically come through acquisition, particularly these days as a lack of loan demand holds back banks' growth.
"Organic growth is tough in this market right now," Beale said,
TowneBank's CEO Bob Aston didn't get too excited about possibly being the largest bank in the state.
"At the end of the day we just want to make a little money for our shareholders and have fun doing it," said Aston. "And whatever the numbers show – they are what they are."
As for going head-to-head in size with Union, Aston said TowneBank's plan to stick strictly to the Hampton Roads market will make it tough to keep the size battle going.
"If Union continues to expand through acquisitions, realistically we're not going to be able to stick to Hampton Roads," Aston said. And Towne has no plans to expand outside that market.
The bank has a branch in Williamsburg, where Union First Market also has a branch.
Michael Schwartz covers banking for BizSense. Please send news tips to [email protected].