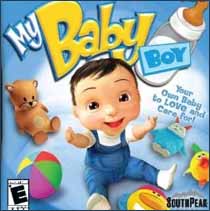 A Chesterfield video game publisher is suing the developer of its best-selling title.

SouthPeak Interactive filed the suit last month in Henrico County District Court, and seeks a court order preventing France-based Nobilis Group from cutting a deal with rival publisher, New Jersey based Majesco Entertainment. South Peak also seeks $300,000 in damages.
Nobilis created SouthPeak's break out hit My Baby Boy and My Baby Girl, which was released for Nintendo DS and to date has sold more than a million copies. The game retails for around $30. Players of the game simulate the challenges and chores of taking care of a baby. SouthPeak also published My Baby 2.
SouthPeak trades on the over the counter market and has offices in Texas and Great Britain. Last week it announced it had secured a $10 million line of credit with private financial services firm Rosenthal & Rosenthal, replacing an $8 million line with SunTrust bank.
Video game publishers like South Peak are similar to book publishers in that they license the game from the developer and handle its manufacturing and marketing.
According to the contract between the two parties that was entered in August of 2008, SouthPeak was granted the first right of first refusal and last matching offer for publishing rights to any sequels within the My Baby series.
The suit alleges that provision was violated when Nobilis entered an agreement with Majesco Games to publish a third title: My Baby 3 & Friends. The game is scheduled for an October release date, according to a press release from Majesco.
The suit states that Nobilis contacted SouthPeak in May to notify them that it believed that the contract between them had previously been breached and was no longer enforceable.
In 2009, the first My Baby game became Southpeak's top-selling product in its ten-year company history after selling more than 500,000 units. You can read more about that milestone in a previous BizSense story about the company.
SouthPeak also seeks a court order to prevent Nobilius to back out of a separate agreement which gives SouthPeak rights to publish and distribute the company's entire catalog.
Company executives did not return calls by press time.
Al Harris is a BizSense reporter. Please send news tips to [email protected].