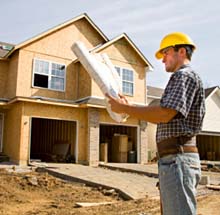 The home building industry in Richmond continues to limp along.
The number of new home permits issued so far this year is down about 40 percent in both counties compared to the better times of 2008.
In Chesterfield County, 340 permits were issued for townhouses and single-family dwellings from January to the end of June. That is 66 fewer permits issued than the same time last year, and 264 permits fewer than in 2008.
During the second quarter, 207 permits were issued in the county, which was 4.6 percent less than the same period in 2008.
In Henrico County, things are looking a little bit better. The county issued 332 permits for attached and detached single-family homes, 56 more than the same period last year.
However, builders still have a ways to go before they catch back up with 2008, when there were 543 permits issued for single-family homes. Between April and the end of June, builders received 184 permits — a 44 percent improvement over the same time last year but still well below the 255 permits issued during the second quarter of 2008.
(The City of Richmond did not provide RBS with data by press time.)
According to a recent Richmond Builder Report, a self-reported list of sales data from the area's 12 largest homebuilders, demand for new homes is on par from last year.
Those 12 builders combined, which include Ryan Homes, Eagle Construction and Mainstreet Homes, reported the sale of 580 houses between January and the end of May — the exact same number they reported for the same period in 2009.
Ryan Homes, the area's largest homebuilder, accounted for 278 of the sales reported so far for 2010.
While the numbers seem to suggest that the worst might be behind us, local subcontractor Buddy Waskey isn't celebrating just yet.
"It's going to get worse before it gets better," Waskey said. "Banks are not lending. If you want to buy a house to live in and not invest or buy a car you can get the money for it. That's it from the banks."
Waskey said that to get developments off the ground builders are turning to private investors instead. He said roughly half of the projects he is familiar with are being financed that way.
"Just because they are getting permits doesn't mean they are going to build houses, if they can't get them funded," Waskey said.
The sharp decline in new housing starts has forced Waskey to cut the number of laborers under his employ. He said that two and a half years ago he had 16 crews with about 10 workers per crew. Now he is down to just one crew.
Others in the industry are more optimistic.
Ken Felts, president of James River Construction in Powhatan, said the market might be improving.
"It's not getting worse. Based on everything I've seen, we are on a slow but steady rise. Maybe not for new homes, but for sure renovations," Felts said.
Felts builds homes in the $400,000 to $800,000 range throughout the metro area. Or at least he did.
"People aren't building big houses much anymore," Felts said.
Last year Felts said he did not build a single house. He is currently working on his first for this year, out in Louisa.
Since the demand for the type of new homes he builds has fallen, Felts, like many other builders, has turned to renovation and addition work.
"Since last spring we've been steadily busy with good jobs," Felts said.
Kevin Russell, vice president of Construction Management Solutions in Chesterfield, said about 30 to 40 percent of his clients have turned to renovations and additions as well. CMS provides bookkeeping, software, estimation and other services to builders.
"There certainly has been some creativity with some of the guys. Some have started new ventures, but still keep their building company. However they can generate new revenue and cut costs, they are open to just about anything," Russell said.
Russell said building is down because of scarcity of funding and low buyer confidence. He describes the level of activity so far this year the same as he would last year — slow and steady.
Homebuilding "won't get back to where it was, but this isn't the new normal either. I think we will pick up in 2011, it's just not going to pick up like crazy," Russell said.
Al Harris is a BizSense reporter. Please send news tips to [email protected].