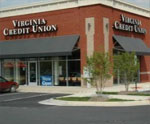 July was a month of firsts for Richmond-based Virginia Credit Union.
According to its latest financials, the 82-year-old credit union reached and surpassed the $2 billion asset threshold during the second quarter and in the process became the third largest credit union in the state.
It trails only perennial credit union giants Navy Federal ($41 billion) and Pentagon FCU ($14 billion), which also happen to be the two of the largest credit unions in the nation.
Virginia CU passed Northwest FCU of Herndon, whose asset base dropped below $2 billion during the second quarter.
"It is a milestone," said Deb Wreden, Virginia CU's vice president of marketing.
It also for the first time the credit union made a move to expand its services to the Hampton Roads market.
Virginia CU filed an application this month with the State Corporation Commission to open a credit union service facility at Eastern State Hospital, a state-run mental health facility in Williamsburg that dates to the 1700s.
Wreden wasn't aware of the specifics of that recent application. CEO Jane Watkins wasn't available to comment.
Whether it's an ATM-only location or an actual branch, any expansion into the competitive Hampton Roads market would likely catch the eye of other credit unions there as Virginia CU's broad charter gives it the power to extend its field of membership to pretty much anywhere in the state.

The credit union also for the first time reached 200,000 members.
Wreden said the credit union isn't used to much attention.
"We tend to not be so boastful," she said.
There was good news on Virginia CU's balance sheet in the second quarter as well.
It reported $3 million in net income for the second quarter, earnings most community banks would kill for these days.
And that was after accounting for a $2.5 million expense it paid to the National Credit Union Share Insurance Fund to help bail out the tanking corporate credit union system. If not for that expense, the credit union, one of the first locally to report its second quarter earnings, would have had $5 million in net income.
All credit unions must pay an extra expense into the fund this year after having already paid a similar expense last year. Having to give up that extra cash is likely to force many credit unions into the red as it did last year.
Corporate credit unions are a system of multibillion-dollar institutions that are basically credit unions for credit unions. They can make investments that normal credit unions are not permitted to by law. But many parts of that system have been blasted by massive investment losses in mortgage backed securities.
Stay tuned for more news on local credit union earnings as they are made available in the next week by the National Credit Union Administration.

Michael Schwartz covers banking for BizSense. Please send news tips to [email protected].