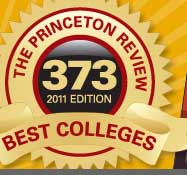 Only one Virginia college pulled in a #1 slot in the seemingly overkill number of categories of the latest Princeton Review.
UVA was ranked No. 1 as the best Value Public College. UVA was also No. 2 in the Great Financial Aid Category.
Princeton Review has 62 categories.
Virginia Tech pulled in a No. 8 in Top 10 Best Value Colleges, No. 2 for Best Campus Food, and No. 17 for Students Pack the Stadium.
William Mary earned a 12th in Happiest Students and 8th for Best Library.
The University of Richmond garnered No. 19 for Best Campus Food and No. 12 for Best Classroom Experience.
VCU and Washington & Lee and Randolph-Macon did not appear on any ranking lists.
?