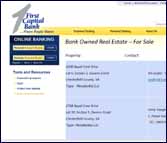 Banks don't like owning real estate, and they're the fist ones to admit it.
But with rising delinquencies, two local banks are getting more pro-active to unload the property they have taken through foreclosure.
Banks typically hire a Realtor to list and market foreclosures, but Village Bank and First Capital Bank recently launched websites to supplement those efforts to market and hopefully sell millions of dollars worth of foreclosures.
"We don't want the land. We don't want the houses. We want people to be successful enough to pay the bills," said Bob Watts, president and CEO of First Capital Bank, which launched its bank-owned real estate site about six months ago.
First Capital reported $2.1 million in the second quarter. Of the 23 properties for sale on its site. All but four are in Chesterfield and most are empty residential lots.
"Most banks have them right now and we can do the best for our borrowers and shareholders if we publicize what we've got," Watts said.
The numbers illustrate why being proactive might be a good idea.
According to the research firm RealtyTrac, foreclosures accounted for 31 percent of all residential sales in the first quarter of 2010 nationwide, including 144,503 bank-owned properties. RealtyTrac found one in every 565 homes in Virginia received a foreclosure notice in June including 681 in Richmond, Chesterfield and Henrico alone.
Local community banks reported a combined $86 million in foreclosed assets on their books at the end of the second quarter.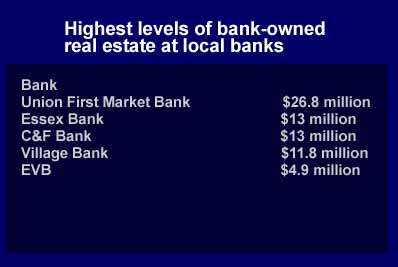 Village Bank, which launched its foreclosed real estate site a few months ago, had $11.8 million worth of foreclosed assets on its books at the end of June, a high amount compared to its similarly sized local banking peers.
"We're not trying to hide it," said Tom Winfree, president and CEO of Village Bank. "We felt like it would be a good way to try to sell this stuff and get rid of it."
On its OREO site, Village Bank is trying to sell seven single family homes, 18 single family lots in Louisa, Chesterfield and the Outer Banks. It also has several tracts of land for residential development in Chesterfield, and land for commercial development.
Since putting up the sites, the properties seem at least to be moving, Winfree said. Village has had a foreclosure sale in each of the last couple of weeks. Fifteen of the 50 properties on the Village site are now listed as sold and a few are under contract.
"It's moving," Winfree said. "But it's not going away rapidly."
The lots at undeveloped subdivisions are proving to be the toughest sell.
"That's a tougher thing to sell because there's an abundance of housing around," Winfree said. "They would be the last to rebound, particularly in Chesterfield."
To sweeten the deal on these properties, both Watts and Winfree said their banks are offering special financing for certain qualified borrowers.
"In many cases we'll look aggressively to put in some special financing for a potential buyer if that's the difference between maybe selling and not selling," Watts said.