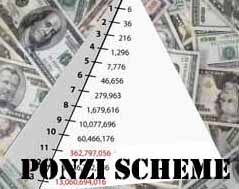 A Richmond man allegedly helped run a $28 million Ponzi scheme that was uncovered in June, according to two regulatory agencies and civil suits filed in Florida.
According to charges filed by Securities and Exchange Commission and the Commodity Futures Trading Commission, William Center of Henrico helped fraudulently solicit $28 million between 2007 and 2009 from about 900 people who were led to believe they were investing in a profitable commodities futures trading pool.
The SEC and CFTC say that the pool was losing money and that Center and his alleged accomplice Philip Milton misappropriated money from new investors to front as profit to pay previous investors. Center and Milton also allegedly paid themselves exorbitant salaries and funneled money through a series of LLCs for personal gain.
The SEC and the CFTC both filed charges against Milton, who is from Palm Spring Gardens, Fla., and Center on June 22. Their assets were frozen, and a receiver has been named to try to recover funds for the alleged victims. The SEC said Milton, an entity called Trade LLC and other parties who received some of the funds agreed to settle the charges. But Center is still apparently fighting the charges, according to a June report from the Wall Street Journal.
Center's attorney, Christopher Bruno of the Bruno & Degenhardt law firm in Fairfax, did not return calls seeking comment.
It's unclear how many of the 900 victims of the scheme, if any, were local. Patrick Rengstl, the Miami attorney representing the receiver, said, "We're actively pursuing a lot of lawsuits in this receivership case. Ultimately, we'll make our way to people and companies in Richmond."
In addition to Center's local ties, a Henrico-based LLC called Center Richmond was named in the suit filed by the CFTC. That entity, according to state records, is based at 1602 Rolling Hills Dr. in Henrico. Sandra Lee Center is listed as registered agent. Previous records show the entity's address as 8143 Greystone Circle in Henrico.
According to a report from the Palm Beach Post, Center is 64 years old.
According to the cases, the scheme preyed on private investment clubs that were led to believe they could make returns of 8 percent a month or 100 percent a year. Center, according to the suits, issued false monthly statements that showed false profits and growth of the fund.
The SEC's suit against Milton and Center, also filed in U.S. District Court in Florida, said that the SEC contacted them in 2009 and that Milton and Center agreed at the time to shut down the operation and freeze and escrow the money. They instead laundered another $4 million out of the fund.
The suit also claims that Milton and Center paid themselves salaries of up to $10,000 each per month. Other money was allegedly laundered through various LLCs to pay for personal expenses and wrongfully enrich family members and acquaintances of Center and Milton.
According to report last week from the Sun Sentinel in Florida, more than $300,000 of the funds allegedly went to a church in Palm Springs where Milton was a member.
Michael Schwartz is a BizSense reporter. Please send news tips to [email protected].