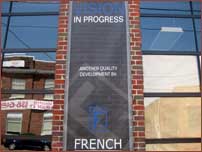 A Northern Virginia supply company is the latest to file a lawsuit against developer Justin French.
Bradco Supply of Lorton lodged a complaint against French and his company in Richmond Circuit Court seeking a past due balance of $35,407.52. The suit was filed Aug. 5.
French applied for an open line of credit with the supplier in November 2009. Between March and July, French racked up the balance for building materials for 1620 Altamont Ave., 1717 Summit Ave. and 3031 Norfolk St.
The latter two properties are the subject of a separate lawsuit between project lender Bank of Hampton Roads and architect Todd Dykshorn, who allegedly failed in his duty to the bank to certify that work was progressing as French made construction draws on the loan.
Dykshorn certified that the projects were almost complete, but the bank discovered after French defaulted on the property loans that the projects were nowhere close to the stated completion levels, according to a lawsuit. You can read more about that lawsuit here.
The Lorton branch manager for Bradco didn't return a call seeking comment. Bradco is a national company with 130 locations in 29 states and annual sales in excess of $1.7 billion.
Their products include siding, roofing, windows, rails and tools.
BizSense has been unable to reach French for comment since his recent arrest at Richmond International Airport. (You can read about that in an RBS story here).
Al Harris is a BizSense reporter. Please send news tips to [email protected]