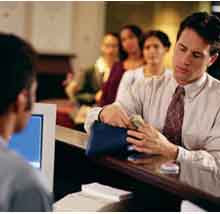 The closure of a bank in Martinsville, Va. late Friday afternoon brings the nationwide total to 118 bank failures thus far in 2010.
Add that to 140 failures last year and 25 in 2008 and there's been 283 bank casualties since the recession began.
But if there is a bright spot to be found in those dark numbers, it's that Martinsville-based Imperial Saving and Loan was only the second bank in Virginia to close as a result of the recession and only the third in the state since 1993.
Those two recession-related failures look pretty good compared to states like Georgia, Florida, California and Illinois where dozens of banks have failed in each during the recession. All but seven states have had at least one bank failure since 2008, according to FDIC numbers.
"I think our economy is better than most other states and we have good quality bank management and boards of directors," said Joe Face, commissioner of the State Corporation Commission's Bureau of Financial Institutions.  "But it's still tough."
Those tough conditions are evident in the fact that a number of struggling banks in Virginia, including four in Richmond (Bank of Virginia, Consolidated Bank & Trust, Virginia Business Bank and Central Virginia Bank), have recently come under written agreement with regulators  by which they must agree to a plan to correct a deteriorating financial situation.
"As long as the economy stays down or continues to deteriorate, asset quality of banks nationwide will continue to deteriorate and Virginia is no exception" said Commissioner Face. "People need to get back to work."
About 175 banks nationwide have come under some form of agreement with the Federal Reserve already this year, about the same number as all of 2009. See the full list here.
"Written agreements nationwide are on the rise," said Bruce Whitehurst, CEO of the Virginia Bankers Association.
Those agreements however in no way mean failure is imminent.
Whitehurst said there are some reasons for optimism given the fact that banks are some of the last economic institutions to feel the pain of a recession.
"It feels like we're fairly late stage in this cycle," Whitehurst said. "Banks are a lagging indicator of a recession. If we are in a recovery, then it stands to reason that as economic activity picks up things should start to pick up for banks."
But with four months to go in 2010 and the numbers of failures and written agreements have already reached or surpassed those of last year, just how many more banks could fail before this is all over?
"Who knows where that might peak," Whitehurst said. "Is it going to hit 400 or 500 out of the 8,000 [banks in the country]? Maybe that's a good estimate."
Another statistic that is food for thought: following the Great Depression there were 30,000 banks. About 10,000 of those failed as result of the Depression, Whitehurst said.
"One in three banks failed in the 1930s," he said. So far 285 banks out of 8,000 nationwide have failed in this recession.