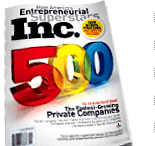 Just one Central Virginia business made the annual Inc. 500 list of the country's fastest growing companies.
Morton Consulting of Glen Allen came in at No. 419. The firm specializes in IT consulting and project management.
The company grew more than 700 percent in three years, reporting $5.6 million in revenue for 2009. The firm was founded in 2006 by Mark Morton, a VCU graduate and IT industry veteran of 20 years who had worked for Wellpoint and Markel Corp.
"We provide staffing and consulting services, principally in the IT space," Morton said of his business.
Morton started the firm in 2005 with his own funds and a small loan from his father-in-law.
"It was uncharted territory," Morton said. "At the time, my wife and I had just purchased a new home, and we were expecting our third son. Leaving the security of a well established organization and taking on a new venture – it was definitely nerve-wracking."
But the gamble has paid off. The company has grown to 50 employees and covers the mid-Atlantic with a presence in Northern Virginia and Raleigh. Morton's client base is concentrated in the insurance, finance and health-care sectors, but the firm also does work for other sectors, including higher education.
One factor behind the company's growth was last year's acquisition of a local IT service company called Xperts.
"Most companies would have thought in 2009 the economy was in terrible shape and ask, 'Why would you go and buy something?'" said Morton. "It made sense for our business and gave us access to accounts we didn't have and also gave us operational staff to help us run the business on the inside."
In 2009, Morton said that accounts from Xperts made up a third of the company's business. The other two-thirds were split evenly between existing and newly added accounts.
The firm is still growing, with several job openings.
"Our goal is to continue to expand our geographic footprint and focus on maturing our presence and service offerings," Morton said.
Morton Consulting joins 48 other Virginia businesses in the top 500 companies. You can peruse the list here.
Last year, three Richmond area businesses made the list: Robinson Radio, Packet360 and Logical Innovations, which shut down its Richmond office shortly thereafter and moved its operations to Indiana. (You can read last year's RBS story here.)
Al Harris is a BizSense reporter. Please send news tips to [email protected]