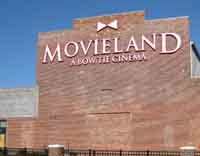 A local firm that specializes in historic tax credits is suing the owners of a new movie theater in Richmond for almost $200,000.
On Aug. 18, Kasper Mortgage Capital filed suit in Richmond Circuit Court against Bow Tie Partners, the New York-based owners of Movieland at Boulevard Square. Kasper Mortgage says it is entitled to lost profits and out-of-pocket expenses stemming from historic-tax-credit consulting work.
Kasper Mortgage is asking for lost profits of $184,725.60, which it says is equal to 4.5 percent of the amount of state tax credits awarded to the project.
State tax credits are awarded for 25 percent of the project's qualified expenses (generally costs other than buying a property), which would mean Bow Tie spent more than $16.4 million rehabbing the former factory into a movie theater.
Charlie Moss, a principal of Bow Tie, said he hasn't seen the case and would not comment when reached at his office in Manhattan. Herbert Fried, Jr., attorney for Kasper Mortgage, could not be reached by press time.
According to the suit, Bow Tie contracted Kasper Mortgage in August 2008 to structure a deal with a credit investor for their project, the conversion of the Richmond Locomotive & Machine Works at 1301 North Boulevard into a state-of-the-art movie theater.
Kasper has provided its services on several tax credit deals throughout the country; local projects include the Cathedral of the Sacred Heart and the Atlantic Motor Company Building at Broad and Meadow streets.
For the Movieland project, Kasper Mortgage negotiated a deal with MetLife to obtain the state tax credits, according to the suit. Based on the information available in the suit, it appears that Bow Tie rejected the deal with MetLife and went with another investor.
According to the suit, Bow Tie terminated its contact with Kasper Mortgage in December 2009. A provision in the contract stated that upon termination Kasper Mortgage would be entitled to out- of-pocket expenses and lost profits.
The expenses are in an amount not exceeding $10,000, according to the suit.
Al Harris covers commercial real estate for BizSense. Please send news tips to [email protected]