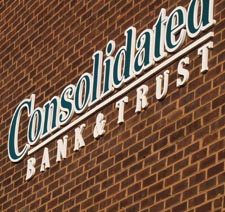 The parent company of Richmond-based Consolidated Bank and Trust Co. said yesterday that it is planning to merge the bank and several other subsidiaries into one new brand — Premier Bank – and that the Consolidated name will disappear.
"That [Consolidated] charter will be eliminated in this process," said Premier's President and CEO Bob Walker, adding that new signage may include a local identifier along the lines of "Richmond Division of Premier Bank."  The future of the Consolidated Bank name had been up in the air for some time.  
Trouble began when the bank was almost shutdown around 2005 and was subsequently acquired by Washington-based Abigail Adams National Bancorp. Adams kept the Consolidated name.
Then last year Adams, the one-time savior, needed saving. In stepped Huntington, W.Va.-based Premier Financial Bancorp, scooping Adams and Consolidated into its multi-bank holding company last fall.
Consolidated executives worried at the time what would become of the historical name, which has a rich history behind it. (You can read more about that in an RBS story here.)
The bank was founded as St. Luke Penny Savings Bank in 1903 by Maggie Walker, the nation's first female bank CEO and the first African American woman to run a bank. Prior to being acquired, Consolidated was also at one time was known as the oldest continually African American operated bank in the country.
Trouble worsened on July 30, when Consolidated was forced into an agreement with regulators after too many problem loans deteriorated its capital base.
Bob Walker said the Premier Bank idea has been on the back burner for a while, but Consolidated's written regulatory agreement moved it on the front.
"We have worked on ideas of how to integrate them [Consolidated and Adams] into Premier all along," Walker said.  "Certainly the written agreement put some more urgency into it." (You can read more about the written agreement in an RBS story here. )
Consolidated's trouble were starting to reach beyond Richmond. Last week, the holding bank was prohibited from paying shareholders a dividend because of Consolidated's agreement with regulators.
Premier is a $1.1 billion bank holding company with eight bank subsidiaries. If approved the new Premier bank will be an $800 million institution with 22 branches across Virginia, West Virginia, Maryland and Washington.
Doing away with Consolidated might help that pesky agreement go away faster.
That's because Adams and Consolidated each has its own charter and each has a separate sets of regulators. So rather than try to work each bank out of trouble individually, Premier said it hopes to release itself from the written agreement quicker by eliminating the troubled banks in its fold and combining them into a single, well-capitalized charter that won't be tarnished in regulators' eyes.   "What we tried to design is a strong bank with strong capital and strong earnings," Walker said. "Our hope is that this would culminate in the release of the written agreement much more quickly."
The end result might end up benefiting local customers and borrowers. The larger Premier Bank will have significantly higher lending limits than Consolidated's $76 million in assets and $7 million in capital could afford on its own.
And a new brand and stronger footing might also give the new bank the resources to go after a larger share of a crowded Richmond banking scene.
Premier now awaits approval from the FDIC and the individual state bank regulators. If approved, Premier Bank will include Consolidated, Adams National Bank, Boone County Bank, First Central Bank and Traders Bank.
As for eliminating the names of those of the other four banks, all which have a history behind them, Walker said the company hopes the customers who have remained loyal to the heritage of those banks won't disappear with them.
"All of our banks have a strong history," Walker said. "We're in the business of taking care of customers. If we do our job well, our hope is that our customers will see that we care about them."
The Consolidated name will eventually come down from its two branches, including its Richmond headquarters at First and Marshall streets. Consolidated has one other branch in downtown Hampton.
Michael Schwartz covers banking for BizSense. Please send news tips to [email protected]