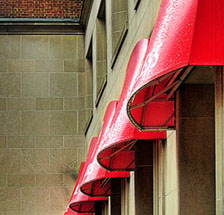 John Watkins doesn't like what he sees when he Googles the name of his new business.
"A couple of spots down, the first thing you see is 'awning company goes bankrupt,'" Watkins said.
It's true. When you search online for Watkins Awnings, near the top of the search results are a couple of headlines from BizSense stories. One reads "Troubled awning firm files for bankruptcy." The other: "Alleged monkey business in the awning industry." 
"It's always bad news," Watkins said.
But what really gets Watkins's blood boiling is that those headlines aren't even stories about his company. They have to do with the troubles faced by Norvell Awning, the company he once owned but sold in 2007 to his then-business partner.
Norvell went bankrupt in 2009, while Watkins was working in Washington. To make matters worse, Watkins says Richard Reynolds, his former partner who has since declared bankruptcy, still owes him money from the buyout.
"[Reynolds] still owes me a whole pile of money," Watkins said.
Watkins even considered buying Norvell's name and remaining assets out of bankruptcy court.
"I was one of the bidders on it," he said. "But after all that had gone on, I didn't want to be near it. I said, 'thanks, but no thanks.'"
And now, with the non-compete clause expired, Watkins is back in the Richmond awning business and trying to spread the word that his fledgling company has nothing to do with any bankruptcy or any monkey business.
Watkins is still competing with Norvelle, which is in business under a different owner.
He's also getting used to running a much smaller company. He went from a company with a couple of dozen employees and a couple of million dollars in revenue annually to running a business out of his house with a crew of three or four.   "For me, it's just nice starting over," Watkins said. "Being small is nice."
He has also learned that being small has its advantages.
"I have found out that a lot of times you don't have to have all that extra stuff," he said. "You can get in a situation where you have too many people who don't know what they're doing."
There is one lingering question: At 55, why even try to get back in the local awning business knowing that there are nuisances from the past haunting his company's future?  "After 30 years in this business, it's almost like second nature," Watkins said. "The best way to put it: It's about all I know."
Michael Schwartz is a BizSense editor. Please send news tips to [email protected]