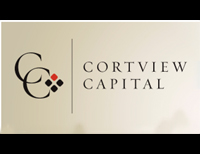 Richmond's financial marketplace just got more crowded.
Cortview Capital Securities opened for business in Richmond yesterday to compete in the local broker-dealer scene with the help of $125 million from a private equity fund.
And right out of the gate, Cortview, which is in the business of buying and selling bonds and helping customers issue debt,  has plans to add employees, increase its number of locations and occupy some formerly vacant Richmond office space.
The new company, including its four founders, Ted Luse II, Brad Bodine, Michael Lacovara and Sean Byrne, has 35 employees.   Its business plan calls for 100 total employees by the end of the year, Bodine said, and "250 to 350 in a pretty short period."
Its headquarters is the former office space of the law firm Williams Mullen on the 11th floor of Two James Center. (Williams Mullen upgraded to a brand new building around the corner.)
Cortview is leasing 8,000 square feet and has an option for the rest of the floor, said Luse, president of the company's capital markets division.  Cortview also has offices in New York, Charlotte and Boca Raton, Fla., with plans for as many as 11 more locations over the next year.
The founders began putting the pieces for Cortview in place in March when discussions began with their private equity backer, Warburg Pincus.
The $30 billion fund agreed to plunk down $125 million in stages. Cortview is set up as a wholly-owned subsidiary of Cortview Capital Holdings Inc., which is a portfolio company of Warburg Pincus.
The four founders all left their previous jobs in June to make the final push to get Cortview off the ground. Luse is the only local. He left BB&T Capital Markets and brought a few of his comrades with him.
One big reason they chose Richmond, according to the Bodine:  to capitalize on the local talent pool in the financial industry.
In particular, Cortview is trying to take advantage of a trend it sees coming down the pike thanks to federal financial regulatory reform that is causing regional banks to focus more on normal banking and less on ancillary lines of business.
That is leaving open opportunities to pick off business and employees.
"Banks are being asked to be banks again," Bodine said. "Washington is casting a critical eye on banks and creating enough turmoil that we believe there is an opportunity."
There's also apparently a trend among private equity firms looking to launch their own broker-dealer arms. According to a Bloomberg report last week, private equity firms are looking to fill a gap left by Lehman Brothers and Bear Stearns.
As for the name "Cortview," it relates to the company's focus on the middle market clients, a hard-to-define segment of the capital markets.  "The word 'cort' means middle, right down the center," Bodine said. "That's the way we view ourselves."