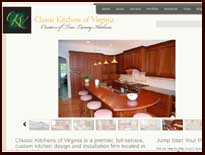 A local general contractor has taken an unusual step to make sure his firm's website comes up at the top of online search results. But although the move might be a savvy web strategy, it has riled other contractors who say it violates the spirit of fair competition.
Classic Kitchens of Virginia, a Goochland general contracting firm that remodels kitchens and other rooms, has registered domain names of competitors with more obscure extensions instead of the typical ".com."
For example, www.gracestreet.biz links to Classic Kitchens, not the website for Grace Street Home Renovations. Similarly, www.frankolafratta.info goes to Classic Kitchens instead of remodeler Mark Franko's website. Classic Kitchens also registered domain names similar to Lane Built and HomeMasons.
Matt Gunn, a vice president and co-owner at Classic Kitchens, said he registered the domains to boost his search engine optimization.
"I found out they were available by searching the domain names, and I was hoping that having the same keywords will help attract views to our site," Gunn said, adding that he's registered more than 100 domains. (Not all of those are competitor's names.)
That's important because most prospective remodeling clients begin their buying process by researching options online, Gunn said.
He said he does not think potential customers will type in the web address of his competitors and accidentally arrive at his site.
Two competitors have emailed Gunn to express their displeasure, but he said he is not disabling the links.
Ed Lane, founder and owner of Lane Homes & Remodeling, said he wants to talk with Classic Kitchen about it but is waiting to assemble some other contractors because he thinks it will have a better impact if they all go at once.
(The sites www.lanebuilt.net, www.lanebuilt.co and www.lanebuilt.biz all bounce to Classic Kitchen's website.)
"I've always appreciated and enjoyed a friendly and honest competitor," Lane said. "We all talk and share stories, but for somebody to be that desperate – maybe it's the economy – but just to get some additional business and do it in an underhanded way, it hurts that someone would do that."
Mark Franko, a co-owner of Franko Lafratta Construction, isn't pleased, either.
"It would seem that a bit of their M.O. is brand confusion," Franko said.
When asked whether the move was just a savvy maneuver by a competitor, Franko said no. "This is clearly not what I would expect from a professional organization."
The strategy is probably legal, as long as customers are not trying to get to one company's website and accidentally ending up at another, said Chris Gatewood, a lawyer who works on copyright and trademark issues. But courts are still working through such issues, Gatewood said, including what the online industry calls cyber squatting.
"It's certainly a relatively bold SEO strategy, and something I think is not commonly done," Gatewood said. "How it plays out depends on whether people are confused or not. … If someone is looking for one company and unwittingly ending up at another, and had a search diverted by that, then there may be some consumer confusion."
Aaron Kremer is the BizSense editor. Please send news tips to [email protected]