Business people love sports metaphors, but one local coach can talk about business as sport without being cliché.
Hamill Jones has turned pickup games into a small start-up business: a league that has eight teams of young local professionals who pay to play, network and socialize.
After years of playing and coaching, the former captain of Washington and Lee University's basketball team and current head coach for St. Christopher's School varsity basketball team decided to put something together when the requests for a formal league became too many to ignore.

"I received a lot of calls from young professionals asking for a pick-up league and alumni who wanted to get back into  the gym," Jones said.
"It started with me reaching out to guys that I knew who I wanted to be captains, and they talked to people they knew, and it just came together through networking."
Broderick Dunn, an attorney for Sands Anderson, joined to keep in touch with friends and former teammates. Dunn was already playing for Commonwealth Club, a less formal league that plays Tuesdays and Thursdays at 6 a.m. Because many of his friends play in Jones's league and the games are Tuesday and Wednesday evenings, Dunn joined up at St. Christopher's.
"Before it was kind of a free-for-all. You never knew who was going to show up," Dunn said. "I chose Hamill's [league] because it was guys that I already knew, and it was a great way to keep playing with old friends."
The league consists of lawyers, bankers and others from ages 22 to 45.
"On my team, we have lawyers, a contractor, two guys from BB&T, and a lot from Williams and Mullen, and Ayers and Stolte," Dunn said.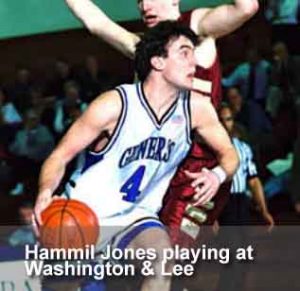 St. Christopher's alumni, Bank of America employees, former UVA football players and other college students have also joined.
And don't forget about the socializing.
Dunn said his favorite part of the league is going to City Limit, which offers the teams drink specials on game nights. "It's a good time," Dunn said. "Kind of some informal networking, too."
Jones organized the league by renting out the upstairs school gymnasium, hiring officials and scorekeepers, and ordering T-shirts for the teams without any help or financial assistance from the school. Players pay a $65 registration fee, but everything else has come from Jones's pocket.
This is his first business venture.
"I formed the league independently because there is already so much going on at St. Christopher's that it just made sense for me to handle it all in my free time," Jones said.
Starting the league was the hard part, Jones said, but now the venture only takes about five hours a week to run.
"More than anything, the league is an opportunity to help alumni stay connected to St. Christopher's by providing them with a great reason to return to campus," Jones said. "In addition, I hope that it has served as a creative and positive way to introduce new people to St. Christopher's, and maybe they will send their sons here one day."
Jones, who has been at St. Christopher's for five years teaching history and coaching, plans to keep the league going. The current season runs through the middle of October, and a winter league is planned.
"I can see everyone signing up again," said Dunn. "It's fun. … People would like to see it grow."