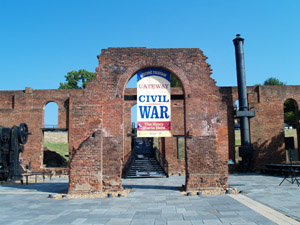 The Richmond Metropolitan Convention & Visitors Bureau unveiled a website Wednesday to promote the 150th anniversary of the Civil War and Emancipation.
Speaking to reporters outside of the American Civil War Center at the site of Tredegar Ironworks, RMCVB President Jack Berry said the website, http://www.ontorichmond.com, will serve as a guide for the throngs of tourists they expect to descend upon Richmond's historic sites beginning in 2011.
"We know that, historically, 10 percent of our visitors come to Virginia specifically to experience our Civil War history. We expect that, with these major anniversaries beginning next year, the proportion of visitors interested in the Richmond region will increase considerably," Berry said.
Together with the American Civil War Center and the National Parks Service, the visitors bureau has designated the Tredegar site as the starting place for tourists to begin their exploration of the various sites throughout the area.
David Ruth, superintendent for the Richmond National Battlefield Park, said that after documentary filmmaker Ken Burns's Civil War series was released, there was a surge in visits to sites across the country. He said that the park service was caught off guard then but that this time they are prepared.
"We were really unprepared for what Ken Burns did for the Civil War then. We will have the same kind of reaction with this anniversary, but this time we are ready. People will come here by the thousands," Ruth said.